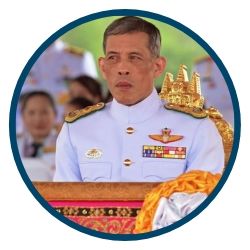 Though they no longer hold absolute power, Thailand's monarchs are still seen as avatars of Divine will on Earth. In 2016, King Bhumibol Adulyadej of Thailand died after complications from health issues including a blood infection. Bhumibol was 88 years old and had reigned for an impressive sixty-six years. His son, King Maha Vajiralongkorn, immediately accepted the throne, but had yet to be properly coronated due to the sudden nature of his father's passing and the extensive preparations required to crown a new ruler in Thailand.
Now, at last, the time has officially come to crown Vajiralongkorn, who is also known as "Rama X" (due to being the 10th monarch of a dynasty that started with Rama the First). The pageantry and celebration of his coronation are both elaborate, beginning in April with the collection and blessings of water from across Thailand to be used in this weekend's ceremonies as well as prayers by monks at the Temple of the Emerald Buddha and inscriptions of royal golden plaques and the Royal Seal of State.
On Saturday, May 4th, the three-day coronation event proper began with a royal purification ceremony, Rama X's ascension to the throne, the reception of various symbols of sovereignty, and a meeting with other members of the royal family. But on May 5th, the country threw its new monarch a party. A 343-man procession traveled seven kilometers (4.3 miles) through Old Bangkok, allowing Thais to pay homage to their new king.
And what better way to cap off this celebration – what better way to combine the old and the new, tradition with the latest technology – than with a spectacular drone light show.
The show involved more than 300 drones, each being controlled by a pilot rather than a pre-programmed flight path. The unmanned aircraft – lightweight plastic quadcopters carrying a large programmable light that you can see in the video above – formed various shapes in the air to the rhythm of the music being played by a live band. These shapes included a complex silhouette of the King himself, phrases such as "Chakri Dynasty" and the number "10", the national flower, celebratory messages, and an elephant. Elephants hold a special place of significance in Thai history and culture, representing the monarchy, battle, peace, and serenity. Live elephants were also part of the ongoing coronation celebrations, with precisely ten of them marching past the palace last Tuesday.
To me, the coolest part of the full drone flight video (not available on YouTube and sadly not embedded above) is when all the drones take off, one by one, in time with the music. Forming complex shapes and all is interesting and impressive in its own way, but any drone pilot knows how hard it must be to coordinate more than 300 vehicles and not have them crash into each other during that delicate, step-by-step ballet of a takeoff procedure. You can see more footage of the flight here.
Drone light shows are becoming more and more common as an exciting way to spice up major concerts, sporting events, product launches, and other events. But rarely are these light shows as big or impressive as this one. Perhaps more significantly, this is the first time drone light shows have been used as part of an event with this much religious and political significance – drawing the eyes of the entire country, and indeed, the world.

Kennedy Martinez is a resident writer who joined Dronethusiast at the beginning of 2019. She has years of experience reviewing drones and other tech products. When it comes to flying drones, Kennedy loves the ability to create artistic videos from a unique point of view. Kennedy enjoys researching new drones and other exciting products that are available to consumers which is why she is committed to creating the best buyer's guides for our readers.