DJI features several drones that vary in prices, ranging from their Inspire 2 which is a professional drone that takes high-quality videos and can be used to transport a professional camera to take smooth videos even in harsh conditions, to the Spark, which is a selfie drone that reacts to your gestures.
In between these two drones, DJI offers a few other options: the powerful and portable Mavic Air; the Mavic Pro, which features a compact folding design that has helped create a new generation of easy-to-carry and compact drones; the Phantom series, marketed at those who want better video quality over compactness.
How do you know which of these models is best suited for your needs? We'll take a look at each drone based on the video and photo resolution, flight time, and remote.
Spark
Phantom 3SE
Mavic Air
Mavic Pro
Mavic Pro Platinum
Phantom 4 Pro
Phantom 4 Advanced
Inspire 2
Video Resolution
1080P 60FPS
4K

30FPS

4K

30FPS

4K

30FPS

4K

30FPS

4K

60FPS

4K

60FPS

4K

60FPS*

Photo Resolution
12MP
12MP
12MP
12MP
12MP
20MP
20MP
24MP*
Takeoff Weight
11 ounces
43 ounces
15 ounces
26 ounces
26 ounces
48 ounces
48 ounces
76 lbs
Gimbal
2-axis
3-axis
3-axis
3-axis
3-axis
3-axis
3-axis
3-axis
Battery
1480 mAh
4480 mAh
2375 mAh
3830 mAh
3830 mAh
5780 mAh
5780 mAh
4280 mAh
Max Flight Time
16 minutes
25 minutes
21 minutes
27 minutes
30 minutes
30 minutes
30 minutes
30 minutes
Max Speed
31 mph
*Requires additional camera
There is something to consider when looking at the models DJI offers: DJI offers a new drone named Tello. This cheerful and cheap model is designed mainly for children because it focuses mostly on safe flying and can be programmed using a new programming language called Scratch. DJI didn't make this model, but it does use DJI parts and is sold by them too.
Video and Photo Resolution
At the bottom of the list is the DJI Spark, which takes 16-megapixel images and 1080p videos.This drone is designed to take selfies, so it's one that you can launch in a matter of seconds to take a photo of your friends or yourself, and then easily land.
If you're looking for a drone to capture more of the beauty of nature, both the Mavic Pro and the Mavic Air take very great 4K videos at 30 frames per second or 20-megapixel images. The Air has a trick to it as well: it can automatically capture eight images and then can put them together into a 32-MP, 360-degree panorama that the drone user can pan around in. This trick is a great way to photograph a scenic spot or landscape.
The Phantom 4 Advanced, and the Phantom 4 Pro is ideal for being able to take the best quality videos. Each of these two models can capture 4K video and offer more sophisticated gimbals that allow you to tilt and pan with incredible smoothness.
The Phantom drones are larger than the Mavic's, but that's what makes them more stable to fly on windy days, which means that you'll be able to get smoother videos in less-than-ideal video capturing conditions.
Inspire 2 is the top tier of professional drone video-makers. It offers a selection of optional cameras so that you can capture the highest quality 4K videos.
Remote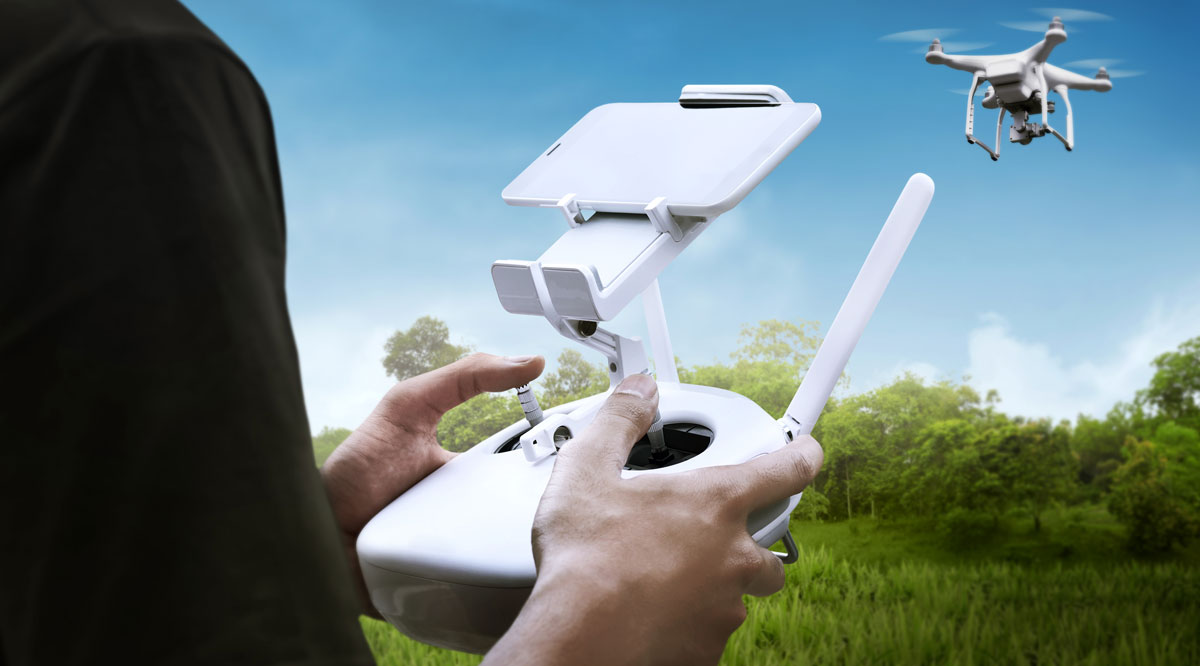 If you decide to go with the DJI Spark, you'll notice that it doesn't have a remote, although you can purchase one for under $200; instead, you control it with your face and hand gestures. All you need to do is turn on the drone; at this point, the drone will recognize your face and take off flying into position to take a photo.
If you put your fingers in a classic movie-frame gesture, the drone will start a countdown before snapping a photo. If you wave your hands the drone will fly back down and land in your hands.
Both of the Mavic's come with a small, fold-out remote that clips onto your smartphone, which allows you to use your smartphone as a preview screen. The Phantom comes with a bigger remote that is easier to use during long flights and can be connected to a tablet for a larger video preview.
The Inspire drone comes with a very sophisticated remote that can provide a large amount of control when an experienced drone flier is controlling the drone. It also allows you to connect another remote so that you can have one pilot watching and controlling the drone while another one is operating the camera to make sure that you're getting the shot you want.
All DJI drones can be controlled through the free DJI Go 4 app, which is available on both Android and iOS, which offers on-screen controls and the ability to create a GPS-guided path on a map. With the high-end drones, for example, the Phantom 4 Pro, the mapping process provided by the app is much more sophisticated. It includes the ability to do other things while flying the drone, such as controlling the pan and tilt of the camera as it follows a preset map path so that you can film different angles of a shot.
Flight Time
While DJI drones differ in capabilities and size, their flight times don't vary that much. From the Spark to the Phantom 4 Pro, they offer between 20 and 30 minutes of flying time. All drones offer interchangeable batteries, so if you want to be able to fly your drone longer, you can purchase a spare battery that you can easily swap out in a few seconds. Depending on the type of camera that is attached to the Inspire 2, it offers about 27 minutes of flying time.
Design and Size
The Mavic Air and Spark are the smallest drones made by DJI and can easily fit into a pocket or small bag when they're folded up. This is because both drones measure about 6 x 4.5 x 1.8 inches, so they're great for carrying on a trip or a hike. On the other hand, the Inspire and Phantom series of drones are much larger.
Because they have a white body casing that makes them more visible in the sky, they measure about 20 inches across. Both drones are designed to promote function rather than form, so the rigid body is designed to favor strength over portability.