There's been a theme in the drone news of the past week, and that theme – apparently – is science fiction. First it was space drones from NASA and the SETI Institute, and now you expect us to believe you can fly a drone with psychic powers? Well, no, but the space drones WERE real, and four Canadian university students have indeed discovered a way to fly a drone using only their minds, thanks to a brainwave reader called an electroencephalogram.
It all started with John Simmonds, a fourth-year computer science student (what we Americans would call a "senior") at MacEwan University in Edmonton. Simmonds, who already had an interest in robotics and drone technology, told the Canadian Broadcasting Corporation that he was looking for a capstone research project idea when his professor, Jeffrey Davis, bought a high-tech device called an electroencephalogram (EEG) cap and brought it to class. The cap – made of a complex series of electrodes and wires which attach to the scalp – is used to measure the electrical impulses passed between brain cells (what we commonly refer to as "brainwaves.")
As Simmonds told the CBC: "I was like, I want to make something fly with my mind." He then recruited fellow fourth-years Stephen Doyle, Alex Crowder, and Mark Reid to help him work on the project over a year of weekends. First, they had to teach the drone (or rather, the computer controlling the drone) to interpret the signals received from the brain just as it would normally interpret signals received from a radio transmitter. They had Doyle imagine the actions involved in doing a pushup while wearing the EEG cap several times and recorded each brain measurement as he did so. They then created a machine learning algorithm to interpret the electrical impulses as "Up" and "Down."
"Everybody, in their brain, has electrical movement when you think of something," Simmonds said, "so the EEG maps that to a certain part of your brain, and we determined the part that is located for movement. After that the computer then sends the information of 'Up' or 'Down' to the drone."
Unfortunately, that process was much easier said than done. For the vast majority of the project's lifespan, the team was frustrated by a lack of progress. Finally, just ten days before the students would have to present their results, there was a breakthrough – quite literally.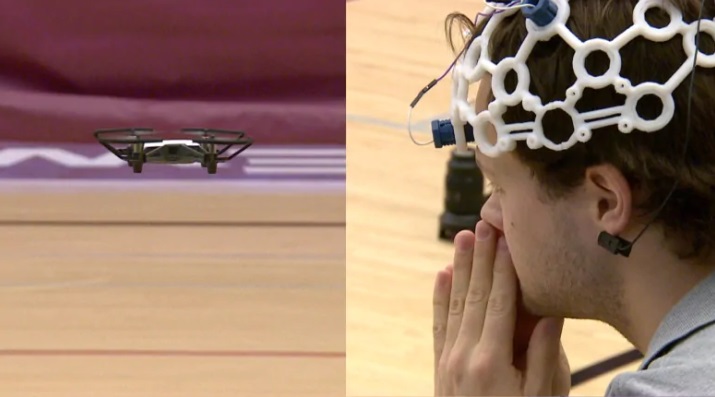 "It worked perfectly," Simmonds explains, "all of the interface worked perfectly – and it flew right into the wall. It flew up and right into the roof and the wall. And we were so happy, even though it broke into a million pieces. To have it just go up, we were on our knees, celebrating. It was amazing."
The "Up" command had worked. Later, the "Down" command would too. But it requires intense concentration and focus on the part of the user – and the algorithm that interprets the brain impulses are currently attuned to Doyle specifically. Nevertheless, the team feels that the technology could have many uses in the future.
"The idea of [using] pure thought in being able to accomplish a goal opens the door for endless possibilities," Doyle told CTV News.
What do you think, readers? It's clear these kids have accomplished something pretty incredible, and we hope they all got high marks for their impressive work. But are telekinetic drones the way of the future? Do you see useful implications for the technology? Or is this simply a neat gimmick? Sound off in the comments and let us hear what you have to say!

The writer known as I Coleman is a veteran tech reviewer who's spent seven years writing about everything from PC hardware to drone tech and who joined the Dronethusiast team early in 2017. I brings his characteristic sense of humor and attention to detail to our product reviews and buyer's guides, making sure that they're packed with expert analysis in a way that's still easy for hobby newcomers to understand. In his spare time, I is using drones to create 3D modeling software for a company in his hometown.