This week, Ghana's parliament approved a deal that would spend $12.5 million (in USD) over the next four years to create a system of medical supply delivery to remote areas of the country using drones. The system will be implemented through a partnership between the Ghanaian government's own Health Service and US-based drone company Zipline, which we've written about before and which has assisted in implementing a similar system in Rwanda.
Government officials say that the deal, known officially as the Drone Delivery Project, will bring the world's most advanced healthcare supply chain to the small African country. But while the government vote on the project was overwhelmingly in favor of the plan (102 votes for, 58 votes against), the proposal has been accompanied by massive public outcry from Ghana's citizens.
The Ghana Medical Association, an organized non-governmental group of doctors from the country, issued a statement calling for an immediate suspension of the project implementation. They say that the Drone Delivery Project is a clear waste of government money in a country that still has less than 100 ambulances nationwide. Furthermore, they point out that the plan was pushed through without any consultation from medical health professionals: "It is appropriate for us as an Association of Medical Doctors and Dentists, who are stakeholders in the policy, to offer our perspective on the matter even though we have not been consulted."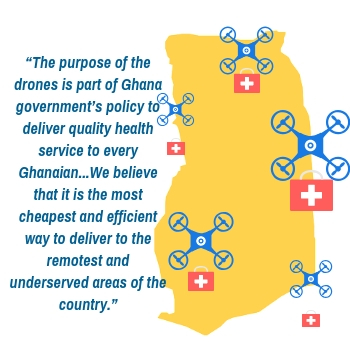 In a general sense, the detractors feel that the deal is more about making Ghana appear technologically advanced and impress Western companies (like Zipline themselves, no doubt) while ignoring the concerns of ordinary Ghanaians.
The Director-General of Ghana's Health Service, Dr. Nsiah Asare, spoke to journalists in Accra about his view of the project: "The purpose of the drones is part of Ghana government's policy to deliver quality health service to every Ghanaian…We believe that it is the most cheapest and efficient way to deliver to the remotest and underserved areas of the country."
The country's Vice President, Dr. Mahamadu Bawumia, of the center-right New Patriotic Party, didn't mince words as he defended the deal as being essential to improving Ghanaian health care: "If you have a technology that can help a dying mother, or someone dying of snake bite, bring the medicine! I think it's something that is so important and we should grab and make use of."
"It is not a political issue," he added, "Because everybody who is dying will not ask whether you're NDC or NPP." NPP, of course, is the New Patriotic Party itself, while the NDC refers to the center-left National Democratic Congress, which has largely been opposed to the deal.
"We've said it that this one, it is a ripoff," said Cassiel Ato Forson, NDC parliamentarian and Minority spokesperson on Finance. "Even if everyone else supports it, I – Cassiel Ato Forson – will not support it because I think it is a ripoff…The Vice President is leading this country unto a path of unrighteousness because obviously, we can use $27.8 million for something better."
At Dronethusiast, we often cover drone news from the perspective that more technological progress in the industry is always better. But this case brings up an important consideration that we should always keep in mind. Progress should never come at the expense of peoples' lives, and as much as we love drones, there are many countries in the world that may legitimately need to wait to implement them as part of their infrastructure.
What do you think? Do you believe that Ghana is facing such a situation now? Or would you rather have fast medicine than ambulance support for hospitals? Let us know what you think of this tricky issue in the comments (and by all means, let's try to keep it respectful.)

The writer known as I Coleman is a veteran tech reviewer who's spent seven years writing about everything from PC hardware to drone tech and who joined the Dronethusiast team early in 2017. I brings his characteristic sense of humor and attention to detail to our product reviews and buyer's guides, making sure that they're packed with expert analysis in a way that's still easy for hobby newcomers to understand. In his spare time, I is using drones to create 3D modeling software for a company in his hometown.