Altair Aerial is a company known for their low-cost drones and great reputation for customer service. Just last month, they released their new Tomahawk drone, a stellar effort which our reviewer called their best aircraft yet. Now they've followed it up with the Altair Outlaw, their first drone with GPS capabilities.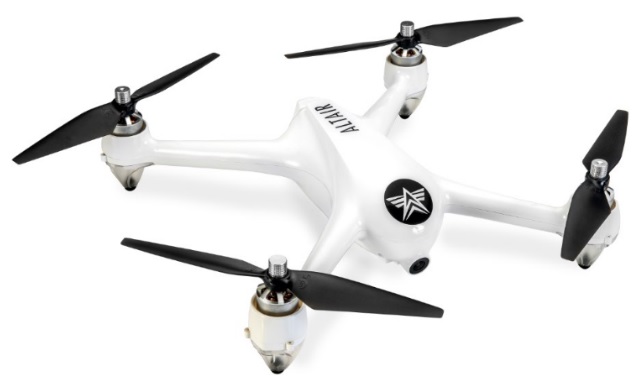 Click To Shop or Read Reviews
There's no question that the Outlaw is the most advanced drone this company's ever produced, and after spending some time flying it myself I think it might be their most beginner-friendly model ever. There's a lot to love with this cheap GPS quadcopter. However, more experienced pilots will probably get more from the Tomahawk, which is still the better aircraft overall.
Read on to see if this great new drone is right for you!
Getting Started:
Altair's more recent drones (the Blackhawk and Tomahawk line) have required quite a bit of assembly, so I was delighted when I opened the box for the Outlaw and saw that the drone was already fully-assembled and ready to fly. All you'll have to do is charge the battery (mine came partially pre-charged), insert 4 AAs into the controller, and calibrate the vehicle.
Here's everything you get when you buy the Outlaw: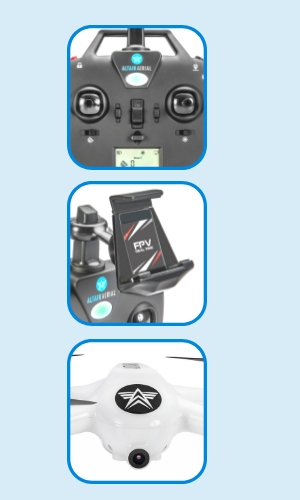 In the box: Altair Aerial Outlaw
1x Outlaw drone with built-in camera
1x remote control transmitter
1x smart phone holder attachment for the controller
4x propellers
1x battery balance charger
1x 7.4V 1800mAh LiPo battery
1x screwdriver
4x extra propellers
1x instruction manual
Most Altair drones have a mount on the drone that requires you to attach a separate action camera (one of which is usually included.) But with the Outlaw, the company's returning to the built-in camera seen with its very first drone. This make setup extremely easy for beginner pilots (and the rest of us too, come to mention it), especially since you can now take photos and videos with the controller itself and don't even have to go through the trouble of downloading the phone app. But if you're a serious photographer, you're going to want to stick with the Tomahawk, which can carry a GoPro Hero 4 for much better picture resolution.
Also, if you want to take video, you will have to purchase a TF flash card separately and insert it into the vehicle in order to store the footage. This is standard practice for most modern video drones.
Calibration is a bit annoying, but the process will be familiar to anyone who's ever used a GPS drone. The first time you take the drone out to fly, you'll have to perform a series of first-time calibrations and connect the aircraft to the radio transmitter. Every other time you fly, you'll skip most of this process, but you'll still have to perform compass calibration. This involves picking up the drone and spinning it with your hands in horizontal circles, then turning it so it points face down and spinning it vertically.
The saving grace here is that the manual is written in easy-to-read plain English. Altair always does a great job with its manuals – the importance of which can't be overstated in the China-dominated drone market. It makes the calibration process easy for anyone to follow and understand.
Another (minor) complaint is the fact that there's only one battery included with the drone, especially since charging said battery takes about four hours. However, if you already own the Tomahawk or Blackhawk drones from the same company, they all use the same type of battery and you can get some extra flight time that way. You can also buy more batteries online.
Flying The Altair Aerial Outlaw
GPS Flight Mode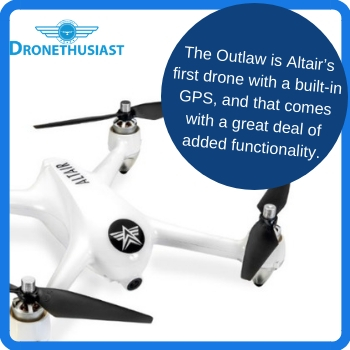 As mentioned previously, the Outlaw is Altair's first drone with a built-in GPS, and that comes with a great deal of added functionality. By far the most significant of these is the GPS flight mode. When activated (with a simple switch on the front of the controller), the aircraft will precisely position itself and hover in the air.
This makes it very easy for beginner pilots to fly the vehicle, since once they fly it somewhere in the air, it will automatically stabilize itself and remain in the same spot. This worked even when taking the drone out in some pretty strong winds (although the manufacturer suggests not flying in winds of 10 mph or above.)
GPS flight mode also makes it very easy to take photographs and ESPECIALLY easy to take video footage that looks great, even if you have no prior aerial photography experience, because of how stable the camera will remain. You can take photos and videos using buttons on the controller if you'd like, although I'd recommend downloading the free app and using a smartphone or other mobile device, since it allows you to actually see the footage you're taking in real-time first person video. The built-in camera aims a little lower than you'd expect it to, so without this visual feedback it can be a little trickier to line up the perfect shot.
The downside of GPS flight mode is that when you do want to control it yourself, it can be a little annoying to fight against the automatic stabilization. That's why you can flip back into gesture mode, in which the aircraft will only maintain altitude and will not use precise positioning or hovering. The vehicle controls much better in this state – certainly better than any other GPS drone I've flown at this price point, although I think the Tomahawk still handles the best of any Altair UAV.
Return To Home Drone Feature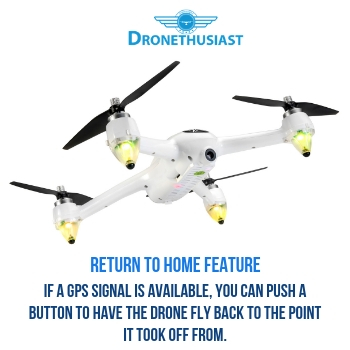 The other main GPS feature on offer is the Return-to-Home (RTH procedure.) This is becoming a common feature in drones, so you may have seen it before, but I'll explain how it works for relative newcomers. If a GPS signal is available (there are more than 7 satellites present), you can push a button to have the drone fly back to the point it took off from. You don't set the "home point" yourself, exactly – it's just wherever this particular drone flight started.
This RTH feature will also activate if the drone loses its connection to the controller, or when it starts to run out of battery. In both cases, you can push a button on the controller to regain full control of the aircraft once a signal has been re-established. If no GPS signal is available and connection is lost or the battery dies, the drone will slowly descend to the ground and shut itself off like the other Altair drones do.
As a more experienced pilot, I generally prefer to land the drone myself. But I experimented with the RTH features enough to make sure that they work, and they do – in fact, they work a lot better than GPS drones in this price range tend to, in my experience. You can even gently nudge the control sticks to dodge obstacles, which is essential if you're going to put this kind of feature in a drone that doesn't have automatic obstacle avoidance.
If you're a beginner pilot, this automatic landing feature will be a huge help as you get used to the ins and outs of drone flying. And advanced pilots often love this feature too, because it means you can fly and fly until the battery dies without worrying about crashing. It's nice to see Altair embracing the future of drone technology in this way.
Other Flight Features
In addition to the new features, Altair has continued to provide the kind of beginner-friendly tech that made their earlier drones so possible. You can once again land the drone and take off with the push of a single button (a feature lacking from the Blackhawk and Tomahawk). Even without GPS functionality, the drone will still fly in an altitude hold mode where it holds its vertical position in space.
And, of course, there's the ever-popular headless mode, which removes one of the most difficult ideas to wrap your head around when you're flying for the first time: how to know which end of the drone is the front. This will be almost a complete non-issue if you're using the GPS flight mode, but it will be great once you graduate to trying to fly on your own.
Finally, the camera itself is a 1080p built-in HD camera that takes great photos and videos. Even though this isn't a technical upgrade from the cameras of the other Altair drones on the surface, I felt like the video I took with the Outlaw looked a lot better than footage taken with even the Tomahawk? Perhaps that's just because the GPS flight mode made it easy to keep the camera stabilized at all times, which meant the footage was less blurry in general. Or perhaps this camera is of a higher quality than the others, even if there's no increase in resolution.
The Verdict – Should You Buy An Outlaw Drone?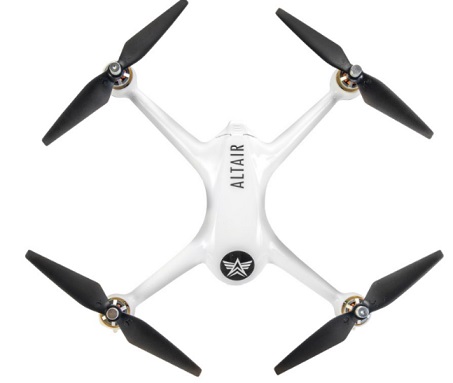 This is one of the best – if not THE best – beginner drones available for under $300. At a price of only $279.80, this drone is less than a third of the price of the DJI Phantom series, but it offers a surprising amount of the same functionality. The new GPS features all work great and will make it easy for even a complete beginner to fly the drone and take great-looking aerial and video photography.
My only concern in this area might be durability, especially since there are no included propeller guards, but the ridiculous number of stabilization systems onboard should make crashes rare. If you want something more durable, you could always go back to Altair's classic AA108, which is nigh-indestructible. But the frame itself is a highly durable reinforced plastic that should be able to withstand most crashes, and replacement propellers are included and can be purchased online for cheap.
If you're an intermediate or advanced pilot looking for a cheap drone, or who's interested in the Altair line of products, the Tomahawk is (in my opinion) still the best drone produced by this company. Though it has fewer features than the new Outlaw, it's simply unmatched in terms of how well it handles and being able to swap out the default camera for something better is a must for any serious photographer.
But it's nice to see that this well-respected drone company is starting to branch out from its niche and provide drones that appeal to a range of consumers. If you want to get in on the ground floor of GPS drone tech for cheap or you're a first-time flier looking for a drone that flies itself, the Outlaw is a great choice!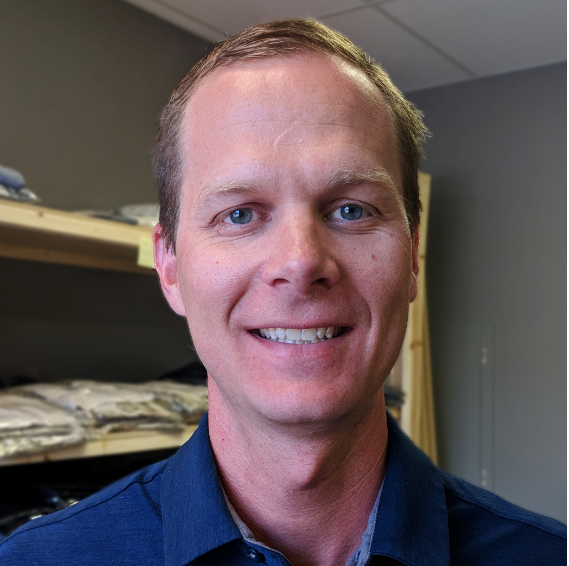 Mike is an online entrepreneur and digital marketing specialist who also loves flying drones. He has owned and managed Dronethusiast since 2015 and enjoys writing reviews and analyzing different topics in the fast moving Drone technology space. Along with the editorial team at Dronethusiast Mike spends hundreds of hours each year analyzing and studying different drones and their tech specs to help consumers find the best products for their needs. Contact Mike by using the Dronethusiast.com Contact page or reach out at mike@dronethusiast.com.