Updated: November 16, 2019
It's great to fly drones outside but there are many people who live in a climate where indoors is the only option. We analyze and review the best indoor drones on the market today. Many drones for sale now are quite similar so we really take a look at the customer service and the quality of the company selling the drone. This is one of the reasons we like Altair drones, they're a small business out of Lincoln, Nebraska and it's always smart when shopping only to keep your purchses limited to businesses within the USA.
We recommend you choose the Altair Falcon, our #1 choice because of it's optical autonomous hover & positioning system which keeps the drone in place when flying indoors. It works like gps in that it doesn't allow the drone to sway side to side or forward or backward, but it doesn't require being connected to a gps satellite. It uses a camera inside the drone facing downward to recognize the terrain and keep the drone from flying off course!
Check out this video of the Altair Falcon:
The hard part, I found, is picking the right one. When I realized how cheap and easy it would be to get started, I bought the first drone I laid my eyes on. It lost its tiny propellers whenever it crashed into objects, and my puppy nearly swallowed one.
The second put scratches on my walls, and another one in my palm. So I set out to find the perfect beginner drone: easy to learn, durable, cheap, and safe to fly indoors.
Cheap drones are still relatively new, and they're hard to find even in hobby shops. But go online, and you can find practically as many flying objects as you'd need to blot out the sun.
The Best Indoor Drones Review
Whether big or small, I found that most cheap miniature quadcopters have the same battery life of roughly 6 to 8 minutes, have roughly the same long range thanks to 2.4GHz transmitters, are nice and stable due to internal gyroscopes, and charge over USB in about an hour. You know what they don't all have? Propeller guards.
If you're learning to fly—and aren't fond of damage—those are priority number one. So I did what any red-blooded gadget lover would do: I nabbed a crapload of drones with propeller guards and flew my heart out.
Here is our list of the Best Indoor Drones available today!
1. Altair Falcon with AHP
See the best price on Amazon.com or get Fast & Free Shipping from their Website at Altairaerial.com
Altair Aerial has just released the Falcon drone and in my opinion, it is one of the best new drones on the market and is filled with some awesome features. Altair is an awesome company known for their outstanding customer service and affordable drones. The Falcon is a great product, that is perfect for beginner pilots. Plus, its features and specs are sure to impress you, particularly the AHP system or autonomous hover & positioning system. Here's a video from the company explaining what AHP is, you can see it really adds value to this drone!
The following is a list of the specifications:
Autonomous Hovering & Positioning System – GREAT Feature for indoor flight!!

Double the flight time – free extra battery included

Headless Mode

One touch takeoff and landing

720P HD Camera
Overall you can't go wrong if you're looking for a compact drone to fly indoors. The HD 720p camera takes great video and pictures, and the autonomous hovering and positioning system helps you keep the drone stable in place which is great for indoor flights.
The price is right at under $130.00 Amazon, and you can be sure you'll get great customer service if you purchase an Altair drone. No other drone company we've spoken to has displayed such dedication to making sure their customers are happy.
The Falcon drone is an excellent indoor quadcopter and is especially great for new pilots. I found it really easy to maneuver around my home, and find it to be of the best indoor drones for beginners.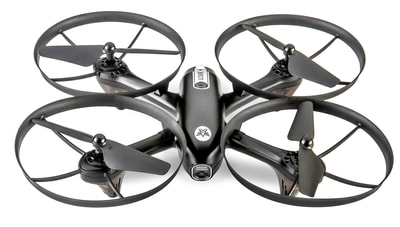 Click Here to See Best Price!
2. Altair Aerial AA108
See the best price on Amazon.com or get Fast & Free Shipping from their Website at Altairaerial.com
The Altair Aerial AA108 has fantastic specifications and is backed up by a US Based company in Nebraska. I spoke to these guys when I wrote my complete review of the Altair Aerial AA108 which you can read here. They picked up their customer service phone line on the 2nd ring, which in itself is amazing when you're talking about drone companies. I'm so used to trying to reach a company only to find out they operate out of China!
I spoke to the founder Matt Cookson and he told me that customer service is their #1 priority. They have a great product, with specs at least as good as any other drone in this category.
They even have an Altair Video Tutorials page that helps you get started.
The following is a list of the specifications:
3 Flight Skill Levels – for beginner up to advanced users. GREAT Feature for indoor flight!!
Headless Mode for easy beginner flight.
Altitude Hold Function – the drone holds its position in the air even if you let off the controls.
Real Time FPV when using the flying see app that is included.
Great Range for the price, both video and flight range.
720P HD Camera Capable
Overall you can't go wrong if you're looking for in the toy drone section with something for a camera to play with. The HD 720p camera takes great video and pictures. The price is right at under $130.00 amazon, and really the customer service is the kicker. No other drone company we've spoken to has displayed such dedication to making sure their customers are happy.
The AA108 drone is an excellent indoor quadcopter, and was exceptionally easy to use. I found it really easy to maneuver around my home, and find it to be of the best indoor drones for beginners.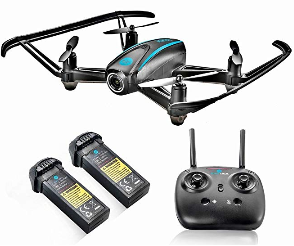 Click Here to See Best Price!
3. Altair 818 PLUS – Best Indoor Drone with Camera
Get super fast shipping and amazing customer service by shopping indoor drones at Altair. Or you can shop for the 818 Hornet on Amazon.
The 818 PLUS has lots of the same features as other similary priced drones – the HD camera, the beginner-friendly design features, the real-time transmission, etc. But it also has a feature that's almost unheard of in drones under $200: it can get 15 minutes of flight time off of a single battery. Combine the fact that it can actually handle a long shoot with the fact that it comes with everything you need for photography/videography right out of the box and you've got easily the best indoor drone for anyone interested in trying their hand at aerial photography.
The following is a list of the specifications:
3 Flight Skill Levels – for beginner up to advanced users.
150 meter flight range
Headless Mode for easy beginner flight.
Altitude Hold Function – the drone holds its position in the air even if you let off the controls.
Real Time FPV streaming from up to 60 meters
15 minute battery life
720P HD Camera
TF card included
Overall, the 818 is a fantastic drone for all skill levels, even a beginner is going to have a great time piloting this drone! It's also our pick for one of the Best indoor drones with a camera and highly recommended for those looking for a combo drone.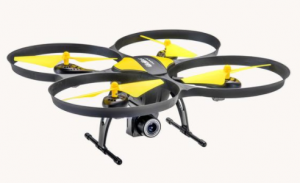 Click Here to See Best Price!
4. Force1 UDI U818A
Finding an awesome drone that has both VR and FPV all wrapped up into one at a price that is more than affordable can be a challenge. However, the UDI U818A by Force1 (not to be confused with the similarly-named previous entry on this list) is definitely what you want to be looking at if these are the requirements you're on the lookout for. It's small enough to be flown indoors, doesn't sacrifice any awesomeness for being so compact, and only costs up to $130. The camera is only a 2MP stationary build with 720p resolution, but that's still pretty decent for the entire package.
The following is a list of the specifications:
Custom Route Mode
1280px720p HD camera, takes video at 30 FPS
Bonus VR headset included and FPV WiFi
Altitude Hold mode
1-touch takeoff and landing
7-9 minutes of flight time
Transmission range of 120 meters with the remote, 40 meters with the smartphone app
Overall, it's a pretty good price for the package you get. The flight time is 7-9 minutes, which is decent amount for the price point. If you're looking for a good indoor drone, the Force1 U818A is a solid choice.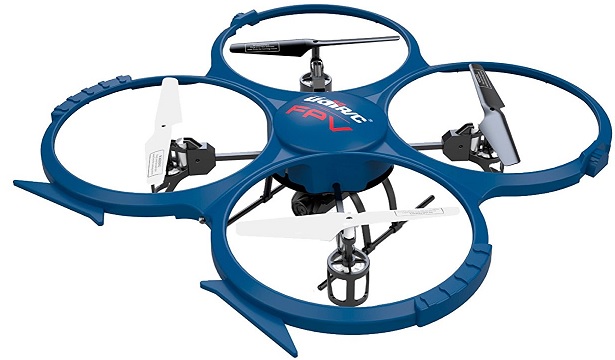 Click Here to See Best Price!
5. Force1 UFO 3000 LED
At just under $50, the UFO 3000 LED is one of the cheapest drones on this list, but that doesn't mean it isn't worth your time. In fact, this quadcopter can turn a dark, indoor room into an awesome light show just by flying it around. It's quick, boast neon LED blue and green lights, has great overall control and lasts up to 9 minutes on a single charge. It's also incredibly stable, even when you are performing some of the featured 3D stunts that it's able to do. In short, an excellent novelty drone for hobbyists and those who care most about the "cool" factor.
The following is a list of the specifications:
1-button 3D stunts and 360° flips
Low and High speed modes and 3 flight modes
Very lightweight and aerodynamic shape, designed for speed and stunts
Comes with two batteries with up to 9 minutes of flight time each
For those looking to really stretch their budget, the UFO 3000 is one the best indoor drones on the market. It's flight time is even a respectable 9 minutes, making it loads of fun without breaking the bank.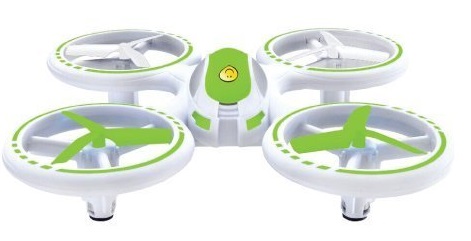 Click Here to See Best Price!
6. Air Hogs Helix X4 Stunt
No sense in sugarcoating it: the Air Hogs Helix X4's got some issues. It's not nearly as fast as the UFO 3000, the controller requires a ridiculous number of batteries, and it screeches like a hair dryer while in use. However, it excels in an area that's extremely important for indoor drones: safety. Covered in lightweight styrofoam armor, the X4 is capable of bouncing of walls, sticking to ceilings – heck, you can put your finger straight into the ducted fans without sustaining any damage to yourself or the drone. One reviewer on our staff even flew the X4 directly into his Panasonic plasma TV at top speed, and it didn't leave so much as a scratch. The drone also compensates automatically for minor deviations, making it mostly very easy to control (though it lacks proper trim adjustments.) On the whole this is a great drone for beginners, children, and those without a lot of living space – and at a price of only $68, you certainly get your money's worth.
The following is a list of the specifications:
1-button 3D stunts and 180° flips
Two control modes
Gyroscopic stabilization
Compensates for minor deviations
Incredibly durable and great crash protection
Controller takes 8 AA batteries (yikes)
Ideal for children and beginners.
If you're looking for an indoor drone for beginners, the Helix X4 is a great choice. While it's overshadowed in a lot of areas by its competitors, the added padding makes it great for first time flyers.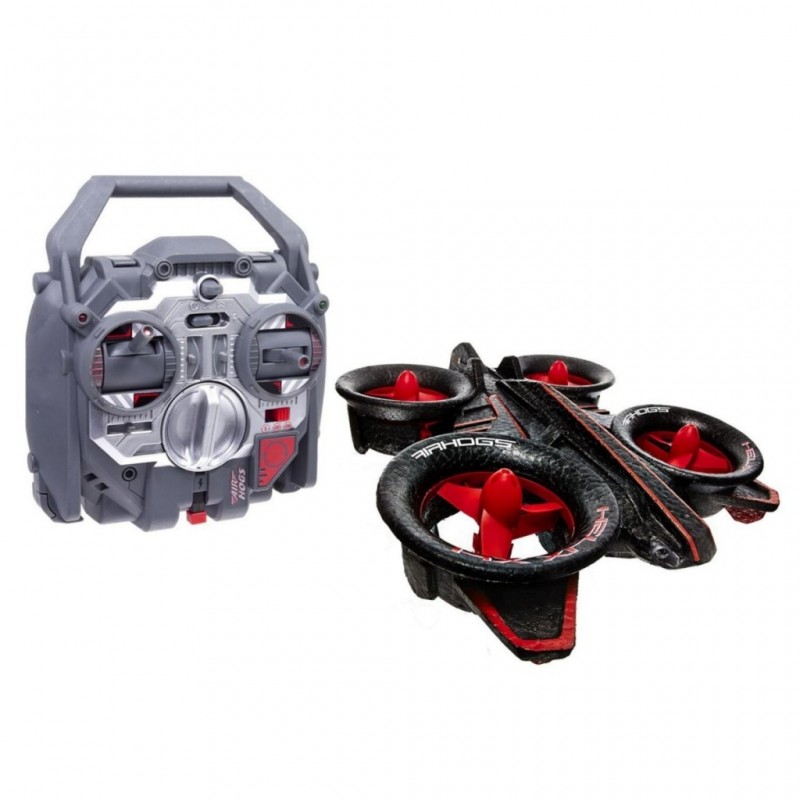 Air Hogs RC Helix X4 Stunt, 2.4 GHZ Quadcopter
Click Here to See Best Price!
7. Force1 DYS XDR200 – Indoor FPV Quadcopter
For a racing drone kit that costs $500 we hope you're expecting an absolute masterpiece. Well, this drone kit delivers quite a bit and then some, but in reality, your love of it all depends on you. Do you favor speed over technical aspects? This carbon fiber racing drone kit with 9 channels, a balance charger, FPV, and high-quality goggles has quite a bit of bang. Whether or not it's bang for your buck depends on your level of patience and any mods you may have planned. Overall, it's pretty impressive, and if you stick to the specifics then you'll probably be very pleased with the end results.
The following is a list of the specifications:
Integrated HD video camera
Radio link AT9 transmitter
FPV goggles included
Lightweight carbon fiber frame built for incredible speed
Fully customizable controller
This is definitely a top of the line drone, and it certainly feels like it when flying. It's speed really makes it a sight to see, but comes with a bit of added difficulty in control. We recommend this drone for those already with a bit of experience.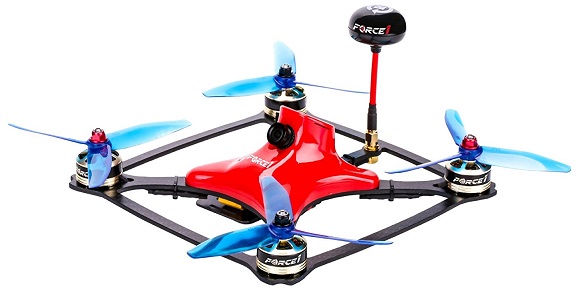 Click Here to See Best Price!
8. Blade Nano QX
The $90 Blade Nano QX makes the Helix X4 look like a giant blimp. With hobby-grade motors set in an incredibly lightweight frame, it's blazing fast. When you set the controller to beginner mode, it's stable enough to use indoors and there's a expert mode that disables the gyroscope entirely for outdoor stunts. (It sounds like an angry bumblebee, which is comparatively a plus!)
Still, this quadcopter has so much power under the hood that its prop guards and bendy frame can't protect it from the worst, as I discovered when cracking its cockpit, permanently deforming a propeller, and accidentally ripping out one of the motors (while trying to remove that propeller) over the course of an afternoon. While it comes with two sets of propellers and spare parts are modular and cheap, you'll want to be a seasoned quadcopter pilot before taking off the safeties.

The following is a list of the specifications:
Item Weight: 0.6 ounces
Product Dimensions: 7.2 x 6.3 x 2.5 inches
Small enough to fly in any room or office
4-in-1 DSMX Receiver/ESCs/mixer/SAFE sensor unit
Features exclusive SAFE™ technology with stability and agility modes
Overall, the Blade Nano provided some of the most fun I've had flying indoors. It takes a bit of getting use to, but is one of the best mini quadcopters I've flown!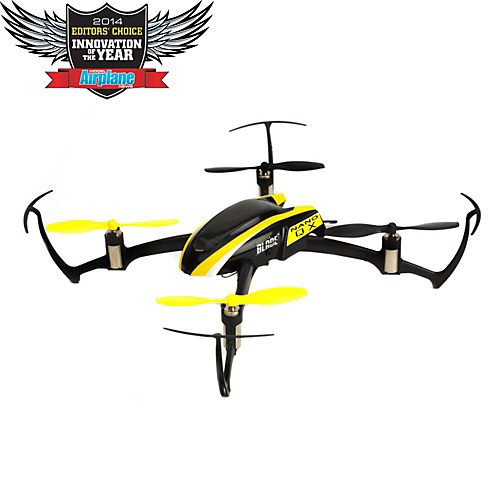 Blade Nano QX RTF with SAFE
Click Here to See Best Price!
9. Force1 Freedom U32
For under $40 you're getting some cool stunts, red and blue LED lights, decent stability, and some speed that is made better by precision steering. This quadcopter may be a small one, and a toy at that, but it has a lot of neat features and specs that make it one of the more high-tech indoor drones that a lot of people will get a kick out of.
The following is a list of the specifications:
7-9 minutes of battery life
Red and blue LED lights provide great visibility
Small, compact design ideal for indoor flight
6-axis gyro
comes with 2 batteries with 7 minutes of flight time each
At this price point, this is pretty impressive drone. I had a lot of fun flying indoors with this one, and got a decent amount of fly time out of the 2 included batteries. While some pro flyers might be turned off by the simplicity, it makes an excellent drone for beginners.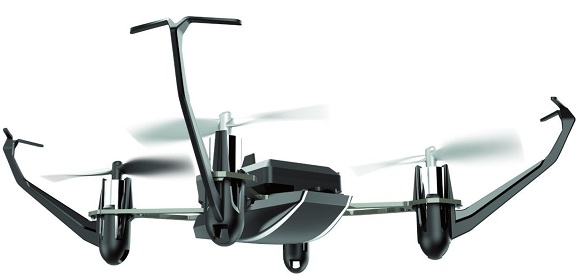 Click Here to See Best Price!
10. UDI U839
Thinking about buying an Estes Proto-X or Synchro? Buy this $30 drone instead. This cute ladybug of a palmtop quad has such a well-designed prop guard, it's the only miniature drone that never once lost or bent a propeller when I repeatedly flew it into foreign objects. It's also got way more power than other mini drones, which can admittedly make it a challenge to fly indoors — ease off on the throttle, folks — but also means it can actually challenge a light breeze if you take it outside.

You can have it perform flips by pressing in the right thumbstick, and it's got nice soft rubber feet for hard landings. The fun also lasts longer than with any other toy-grade drone thanks to the ingenious idea of using a pair of identical LiPo batteries for both the transmitter and the drone itself: just swap them when the tiny copter dies and you're good for another 6-7 minutes. Again, it's a challenge to fly this one, and the gyro seems a little finicky: I wound up spending time recalibrating the trim nearly every time it hit a wall.
The following is a list of the specifications:
6-7 minutes of battery life
Weighs 0.6 ounces
Capable of 360 degree rolls in any direction
Small, compact design ideal for indoor flight
If you're looking for the best indoor drone of 2019 this is a definitely a competitor. It packs quite a punch for the money, and makes an excellent indoor drone.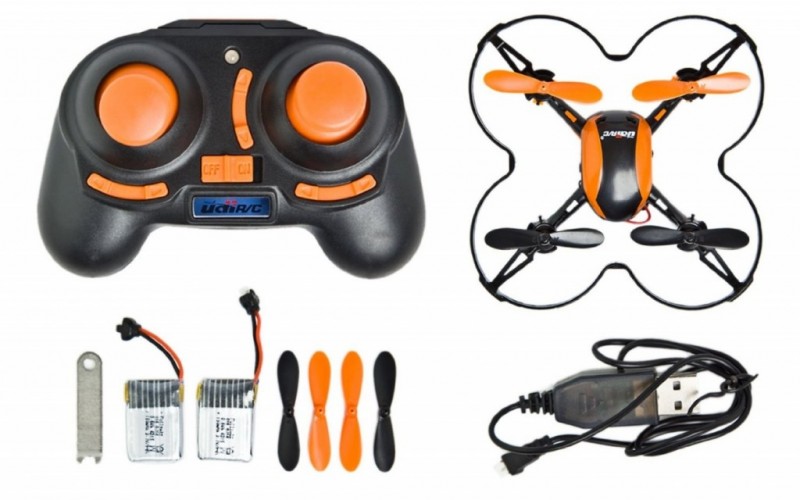 UDIRC U839 Nano 3D RC Quadcopter
Click Here to See Best Price!
11. Syma X5C Swann Xtreem Quadforce Video
There aren't a lot of drones that have cameras and propeller guards, but this is the one to get right now. It's a $60 DJI Phantom ripoff with cheap materials and a crappy camera, but nothing else comes close for the price Syma is asking. It's one of the most stable cheap quadcopters I tried, stable enough to fly around my tiny townhouse indoors, and stable enough to fly in a mild breeze—though you'll get some very shaky footage. You can start capturing video just by holding down a button on the remote control. The video quality is absolutely terrible, worse than any cameraphone you've used in the past decade, but even disgustingly bad footage from high in the sky has charm!
The following is a list of the specifications:
30 meters control range
360 degree roll in any direction
6-axis gyro
Very stable
Durable prop guards
If you're looking for a cheap indoor quadcopter with a camera the X5C is a solid choice. While it won't win any rewards for its camera quality, beginners will delight in the ease of use and filming capabilities.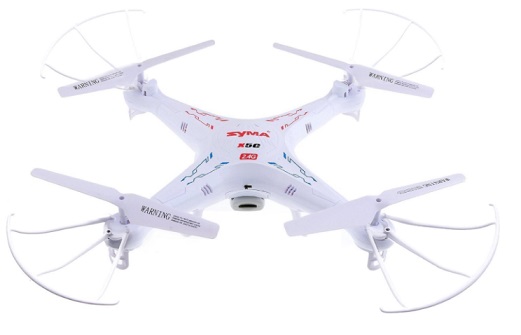 Click Here to See Best Price!
12. Syma X4
You're not going to find a quadcopter that doesn't sound like four propellers straining to keep themselves in the air, but the $35 Syma X4 more closely resembles a miniature blender than a dying vacuum cleaner. What's more, it's sleek, well-built, and wonderfully stable for indoor flights — easier to fly than any of the miniature drones I tried. Gamers (like me!) will find themselves right at home with its Xbox-style controller. Just make sure you check that all the buttons on the controller are working correctly: one of the important trim buttons on my controller was misaligned and extremely hard to press.
The following is a list of the specifications:
Only $35 – probably the best drone you'll get at that price
360 degree roll in any direction
6-axis gyro
Very stable
Durable prop guards
Those looking for an easy to use quadcopter will be happy with X4. At only $35 you're definitely getting a good deal for what you get.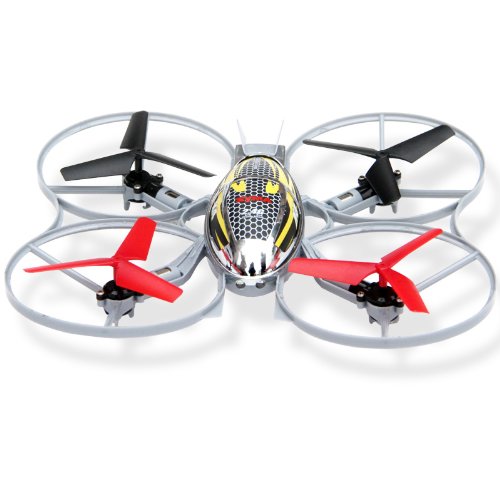 Syma X4 4CH 2.4Ghz Quadcopter
Click Here to See Best Price!
More Great Indoor Drones
Litehawk High Roller (aka Sky Walker 1306 / Sky Matrix H1306)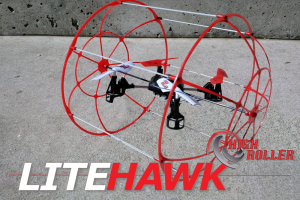 I had more fun with the $90 High Roller than any other drone I tried. It's the only drone you can crash over and over and keep on flying because it automatically flips itself upright. Unfortunately, it's also the only drone that permanently died after I turned it off one evening. If I wasn't afraid of the many quality control issues I spotted, I'd recommend one to you.
Hubsan X4 (H107C, aka Code Black / Black Hawk)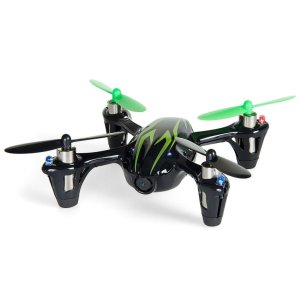 I really, really wanted to like the Hubsan X4. It's such a sleek little craft, and the $50 H107C model comes with a propeller guard and a built-in camera. Unfortunately, the camera stopped working the very first time I took it out, and somehow the Hubsan's brittle propellers still managed to push past the guard and impact my walls.
Hubsan X4 (H107L)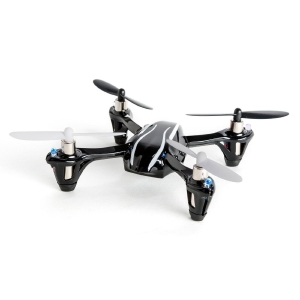 This smaller $40 version of the H107C doesn't come with a propeller guard and didn't work well with the optional one I bought for an additional $7. It's jerky, not nearly as stable or as easy to control, and mine had a tendancy to tilt too far during flight and crash into the ground. Don't bother.
Estes Proto X (aka Syncro / Hubsan Q4)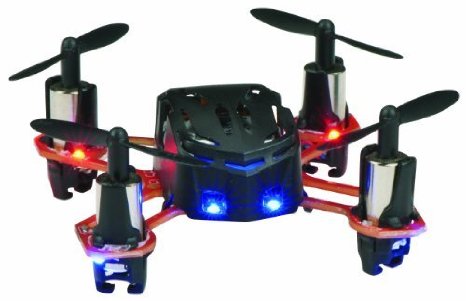 This tiny cute $30-$40 drone is quite literally a circuit board with motors attached at all four corners, but those motors don't give even this barebones drone a lot of lift. When I added an aftermarket propeller guard, it was too heavy to fly properly. Without one, it tends to lose propellers in my carpet.
Parrot Rolling Spider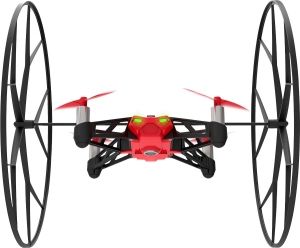 While it comes with a pair of detachable wheels that let it roll up walls and across ceilings, I found they didn't adequately keep the $100 Rolling Spider from slicing into household objects. The main reason I didn't enjoy playing with the Parrot, though, were the laggy smartphone controls.
Syma X3 (aka Swann Xtreem Maxi Quad Starship)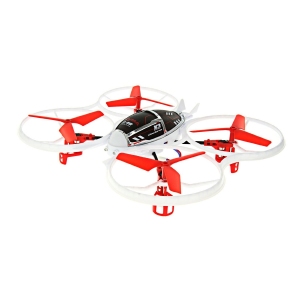 Don't bother with this larger $25-$50 version of the Syma X4. The Syma X3 is a teensy bit more powerful, but not enough to reliably fly outdoors. It doesn't last longer, and it's noisier and looks uglier. The propeller guard is removable, but wound up removing itselfat inopportune moments.
UDI U818A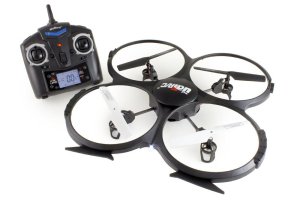 The #1 best-selling quadcopter on Amazon, I had high hopes that this cousin of my favorite miniature quadcopter would be a solid camera drone. Unfortunately, it turned out to be one of the flimsiest pieces of shit I've ever laid eyes on. More importantly, even with a fully charged battery, my $65 unit didn't always have enough power to get off the damn ground.
Parrot AR.Drone 2.0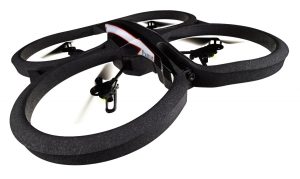 Though it's a way better camera drone than the others I tried, producing far clearer HD footage, it's also big, heavy, expensive for beginners at $300, and not as responsive as joystick-controlled drones. Smartphone controls suck.
Hubsan X4 (H107D)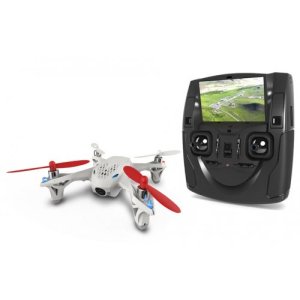 Much like the H107C, but transmits a live video feed from the camera to a screen on the remote control for $140. Lots of unhappy customers due to issues with that controller. I didn't bother.
WL Toys V262 Cyclone
Some user reviews complain of quality control issues, and more of them about horrendous customer service. Didn't feel like risking $62.
World Tech Toys Panther Spy Drone U
It looks like a clone of the WL Toys V262, but with higher quality components—as you'd expect for the $150 asking price. But just like the UDI U818A, I couldn't get the damn thing to stay in the air even with fully charged batteries.
So here you are – our roundup of the best indoor drones that you can buy for yourself or as a Christmas present. If you need more inspiration for holiday shopping for yourself, your loved one or friend, check out our suggestions for Top 10 Christmas ideas!
Indoor Drone Flying Tips
Passing the time with drone flying is great fun, but doing so outdoors isn't always an option. Sometimes it's too hot, other times too cold, rainy, or snowy. Sometimes you just want to relax on the couch and enjoy your time! Flying your drone indoor is a great option, but you should take special precautions to be safe and prevent damage to your drone.
We've put together our list of the top indoor drone flying tips to help you get started. With these tips, you'll be piloting your drone around your home in no time!
Pick the Right Drone

The first step is to make sure you've got the right type of drone to fly indoors. Drones come in a variety of sizes, and when indoors you'll generally want to go for smaller versions.

For home or apartment use, you'll want to pick up a micro or mini drone. Stay away from some of the larger varieties unless you have an unusually large amount of room. Use good judgement here, and pick a model that you'll have enough room to navigate with.

Reset if Necessary

Some drone are actually able to remember and adapt to their previous flight conditions. If you used last on a windy day outside for example, this could impact how it behaves indoors.

If this is the case, try resetting your drone to prevent any odd behavior. The user manual should have information on how to do this if the feature is available.

Adjust The Controls

Some drone models have preset controls for indoor or outdoor flying. If this is the case, switch yours to to indoors for better control.

If not, you can still likely manually adjust the sensitivity to give you better control over your drone.

Use Propeller Guards

When the risk of striking something is high, such as indoors, always use propeller guards. These are specially designed accessories that help protect fragile propellers from damage.

Not only do these help prevent damage to the drone's propellers, but they also help prevent injury should the propellor strike a person. This also extends protection to fragile pieces of furniture like a couch.

Clear Area Of Pets (And Children)

If you own a curious pet it's best to remove them from the flying area. This prevents them from accidentally damaging your drone, as well as you from accidentally hurting them.

The same extends to small children. Take care to not allow them too near to the drone to prevent any sort of injuries that could arise.

Don't Overreact

A common mistake for many drone owners is to get into a spot of trouble and then make it worse trying to correct the situation. If you get too close to something, or your drone starts to falter don't panic and remain calm.

Try to correct the issue with as little movement as possible. Don't overreact and make the problem worse!

Get Permission

Always asked permission if you're not the home or drone owner. If you're a minor, always ask your parents or guardian before flying the drone indoors. Trust us, you'll be glad you did!
The Best Indoor Drone
Flying drone is great fun, and being able to do some from the comforts of your home is great fun. Buying the right drone is essential for indoor flying, and hopefully you now have some ideas on what the best indoor drone is for you. Keep our tips in mind, and you'll be flying inside in no time!
Further Reading
Top Drones under $200 by Dronethusiast
Summary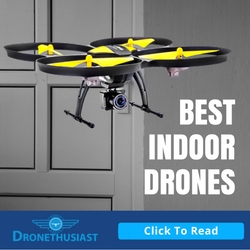 Article Name
Description
The best indoor drones won't necessarily break the bank, or anything else in your house for that matter. Take a look at our top indoor drones today!
Author