There is an increasing surge of drone helicopters in the market. At first, helicopter drones were solely meant for military operations to spy on enemy activities. Today, however, heli drones are used in all spheres of life, thanks to the technological advancements that have made them more affordable. So what are drone helicopters? These are tech devices that resemble small helicopters, and they have cameras strapped to them. Drone helicopters are remote controlled, and every model has its unique features and capabilities
Drone helicopters have various uses. The most distinct applications for these toy aircrafts is photography. Photographers can take creative and better quality pictures and videos just by flying these remote-controlled drone helicopters over a scene. Drone photography has commercial use in real estate, tourism, and journalism. Then again, drone photography can be used for personal thrill vis-à-vis drone selfies.
Heli drones are also used for amusement in racing and hoverboarding. Other than that, these devices also find use in security and surveillance, monitoring farm activities on large plantations, wildlife protection and search and rescue, to mention a few.
BEST DRONE HELICOPTERS WITH CAMERA
#1 Our Pick
Altair Outlaw SE
Camera:

1080p FPV 500 Meter Range

Range:

600+ Meters

Time:

18 Minutes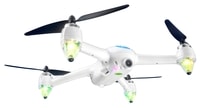 #1 Mini Drone
#AA108
Camera:

720p Realtime FPV

Range:

100 Meters

Time:

10 Minutes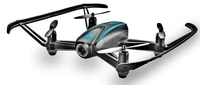 #1 Hobby Drone
818 Hornet Plus
Camera:

720p

Range:

150 Meters

Time:

15 Minutes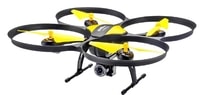 #1 Professional
DJI Mavic Pro
Camera:

HD 4K

Range:

7000 Meters

Time:

27 Minutes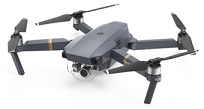 Best Drone Helicopters with Camera Reviews
With the many models of heli drones available in the market, it can be challenging to make the right purchasing decision. But you are in luck, we have tested and tried many helicopter drone helicopters with cameras, and in this review, we bring you the best devices. Best rated drone helicopter with cameras include the Altair Aerial AA108, the Force1 Discovery U818A HD, the DJI Mavic Pro, the DROCON X708W and the SZJJX APP-RC Drone. All these drone helicopters have exciting features and functions. But still, we take them apart to reveal all the details so you can make a better purchasing decision. Read on to find out which helicopter drone is worth your dime.
Altair Outlaw SE Drone
See the best price on Amazon.com or get Fast & Free Shipping from their Website at Altairaerial.com
One of the best things about flying drones is the opportunity to capture stunning aerial photos and videos. The Altair Aerial Outlaw SE is one of the top drones for accomplishing this. It has an amazing built-in 1080p camera that even beginners can easily fly to take stunning footage.
What makes this drone stand out amongst other camera drones is its GPS flight mode. The Outlaw SE already has an amazing camera but with the GPS flight mode, your drone will remain stable at all times. There's no need to worry about blurry photos or videos, The Outlaw SE will capture amazingly clear footage every time.
Other features of the Altair Aerial Outlaw include

7.4V 1800mAh LiPo battery
18-20 Minute Flight Time
Return to Home (RTH) Functions
Follow-Me Mode
600 Meter Flight Range
1080p Premium Camera
Altitude Hold
Step-by-step how to videos available on altairaerial.com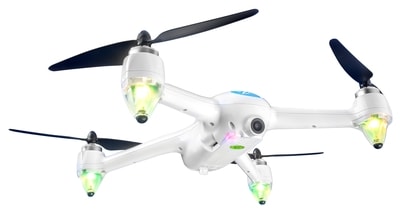 Click Here to See Best Price!
Altair Aerial AA108
Read reviews and shop for the Altair Aerial AA108
If you are looking for a pocket-friendly helicopter heli drone with excellent features, the Altair Aerial AA108 should be your number one option. This helicopter drone comes with a 720 p HD camera that will enable you to take the best quality panoramic photographs. And you don't have to worry about storage space for the footage; this drone helicopter comes with a 2GB micro SD card so you can shoot for long before uploading to your computer.
Other features of the Altair Aerial AA108 include
· Two 3.7 v LiPo batteries,
· USB charging cable,
· Memory card reader
· Four extra propellers
· Strong build
· Remote control

Flying this helicopter drone is easy even for beginners. Its camera doesn't disappoint. Even better, this drone heli is retailed by the manufacturers based here in the USA, and they have a reputation for excellent customer service.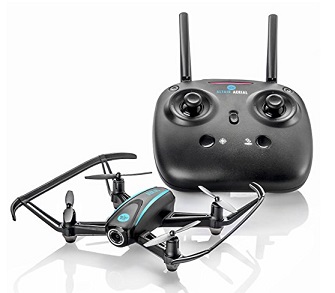 Click Here to See Best Price!
AA818 Plus
Read reviews and shop for the AA818 Plus
The First Person View is the hype thing about drone helicopters today. This is a virtual reality functionality in which you can stream real time footage of the drone heli on your headsets or monitor so you can feel like part of the flight. The AA 818Plus features this FPV system, making it the best helicopter drone with camera for recreation.
Other exciting features on this quadcopter include.
· Altitude Hold mode
· Headless mode
· 720P HD Camera
· Live streaming over WIFI

The headless mode is an exciting feature because with it you get to fly this quadcopter backward or sideways; it doesn't matter where the head is facing. On the other hand, its WIFI enabled camera will enable you to stream every detail of the flight on your monitor or headset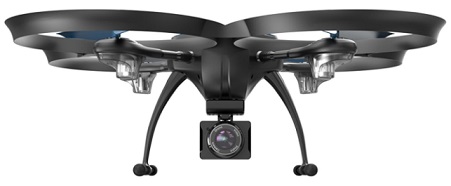 Click Here to See Best Price!
DJI Mavic Pro
Read reviews and shop for the DJI Mavic Pro
Professional photographers should go for this quadcopter. This drone helicopter features a 4K camera that captures ultra HD picture and video footage. The best thing about such an excellent camera is that even when you film in a windy or shaky situation, the images will still come out sharp.
The DJI Mavic is suitable for both newbies and advanced drone hobbyists. Its built is robust, and so you can expect flight stability even in gusts of wind. The safety sensors are perhaps the unique feature of this piece of tech, other than the 4 K camera. This quadcopter features two sensors that will protect it from crashing into buildings, trees, and other obstacles. But that is not all, this helicopter drone with camera has long-life batteries that can guarantee at least 25 minutes of flight on a full charge.
Other features of the DJI Mavic Pro include:
· Return home feature
· Batteries lasting long, more than 25 minutes
· Live to stream of flight footage via the DJI Go software
· Flight speeds of up to 40mph (64kmh)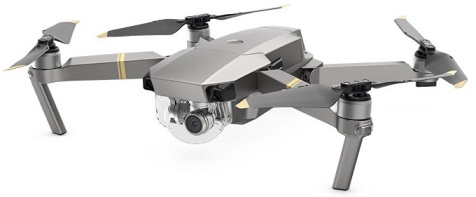 Click Here to See Best Price!
DROCON X708W
Read reviews and shop for the X708W
It is rated as the best helicopter drone for beginners. Why is that? This helicopter drone with camera is easy to operate. First, there is the headless mode so that you don't have to worry about keeping direction, then there is the Key Return Home function that will bring the helicopter drone back to you with the press of a button. Also, users get to choose their desired flight speed from the various speed levels configured on the DROCON X708W. New beginners start from low speed and improve as they gain experience.
Other features of this quadcopter include
· Two-speed modes; one for beginners and the other for experienced users
· Streamlined body for easy takeoffs and smooth landings
· 720p HD camera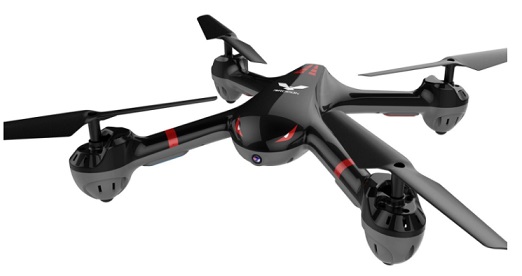 Click Here to See Best Price!
SZJJX APP-RC Drone
Read reviews and shop for the SZJJX RC Drone
The best thing about this heli drone is that play and racing become more thrilling with 360 degree flips. The heli drone can roll backward, forwards or sideways during flight.
Apart from that expect features such as:
· FPV WIFI transmission,
· Headless Mode
· Altitude Hold
· HD camera (30 pixels)
· LED mode for night time photography and play
· Six axis gyro technique

This drone helicopter delivers a superlative experience with extra features such as the six axis gyro technique. How this helpful? This feature helps to stabilize the aircraft even in high winds. It also makes it possible for a heli drone enthusiast to show off their piloting skills by enabling flips and rolls in midair, without crashing.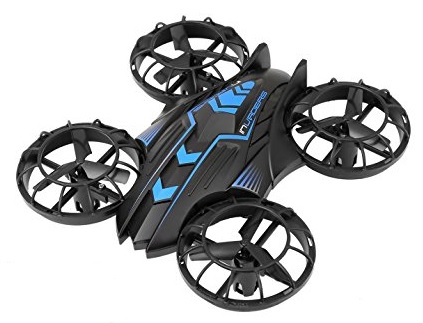 Click Here to See Best Price!
Best Drone Helicopter with Cameras Analysis
The Altair Aerial AA108 is the most affordable drone helicopter with superior features. This drone helicopter is suitable for both beginners and advanced pilots, thanks to its 3 flight skill levels. One can choose from Beginners LEVEL, Mid-Level and Advanced Level for a challenging or straightforward flight experience.
Many users love the Force 1 Discovery U818A because controlling it is easy. Moreover, professional photographers can use the Altitude Hold function to take sharp and crisp photos of sceneries. Nonetheless, it does not beat the DJI Mavic Pro which features a 4K camera, safety sensors, and long battery life. Still, many customers wish that the DJI Mavic Pro should have additional sensors for flying in headless mode.
The DROCON X708W takes heli drone amusement to the next level with virtual reality. Its FPV function allows live streaming of flight footage. Its camera is 720p, and it delivers excellent picture quality for both stills and video. If you lose control signal while flying this helicopter drone, you need not worry. Just press the Key Return Home button, and the drone will fly back straight to you.
Want to fly or film at night? Go for the SZJJX APP-RC Drone; LED light feature makes it great to work or play with night and day. You have a reason to get excited when the sun sets. Many photographers can concur that the twilight creates stunning photography scenes. The FPV feature will allow you to view flight photos or video while flying this helicopter drone. The Altitude Hold function lets you pause the heli drone in midair so you can record non-shaky pictures or videos. This piece is a must-have for all photographers
Best Drone Helicopters with Camera FAQ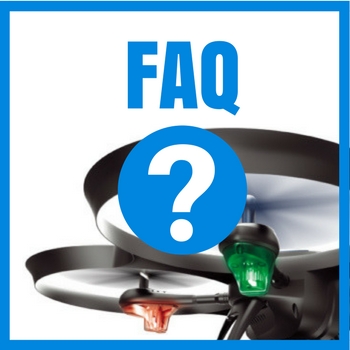 What is the best helicopter drone with camera?
The best affordable helicopter drone with a camera is the Altair Aerial AA108. For photography get the DJI Mavic Pro because of its 4k camera and FPV, or you can go for the SZJJX APP-RC Drone. The SZJJX APP-RC has the 6 axis gyro stabilization technique and altitude hold function that enables you to record better quality footage. Beginners in the drone hobby can start with the DROCON X708W. For recreational purposes, the Force 1 Discovery U818A does not disappoint.
What if the battery suddenly dies during flight?
You didn't have to worry. The best heli drones have an alert system that will notify you when the battery is going low so you can fly it back to you. Otherwise, the drone would either land or return home automatically. No crashing.
How can I avoid crashing my helicopter drone?
The best drone helicopters come with inbuilt sensors that alert you when you are flying too close to obstacles. However, always fly your drone helicopter within a range you can see. Fly your helicopter drone in a familiar area where you understand how to maneuver trees or buildings.
For how long can I fly my helicopter drone?
Drone flight durations are dependent on battery life. You can fly your drone for as long as the battery charge allows. To get the most out of your batteries, fly your heli drone at high speeds so that you can cover more distance.
I acquired a GoPro camera, can I fit that on a drone helicopter?
Not all drone helicopters are compatible with GoPro because many come with manufacturer's cameras. GoPro requires a powerful heli drone that has a shoe for mounting the camera.
Smack! Now you know that there are indeed charming helicopter drones with camera out there. Take heed of this review and analysis; it will help you get the value for your money.

Kennedy Martinez is a resident writer who joined Dronethusiast at the beginning of 2019. She has years of experience reviewing drones and other tech products. When it comes to flying drones, Kennedy loves the ability to create artistic videos from a unique point of view. Kennedy enjoys researching new drones and other exciting products that are available to consumers which is why she is committed to creating the best buyer's guides for our readers.