Drones are a great way to pass the time and can be used for both recreational and professional purpose. We've reviewed hundreds of drones that are on the market and are always ready to try out a new model. That's why we were excited when Altair Aerial released the AA200. We've reviewed many Altair products on this website and were excited when they released this new model.
Today we will be taking a deep-dive into Altair Aerial's new AA200 drone. Altair is known for its high-quality and affordable drones that they offer and we were thrilled to see just what the AA200 is capable of. One thing we are especially excited for with this drone is that Altair Aerial has rolled out a new feature unique to their brand. An Autonomous Hovering & Positioning System. We will be getting more into detail about this feature later, but for now, let's get started by unboxing the drone.
Unboxing the AA200 Drone
Straight away, as you open the box, the drone is preassembled with an all-black design and compact size. The fact that it comes assembled in the box is great because it means you can get to flying much faster. You will want to make sure your batteries are charged and insert them into your controller and drone. Then it will be time to calibrate it, and you can start flying.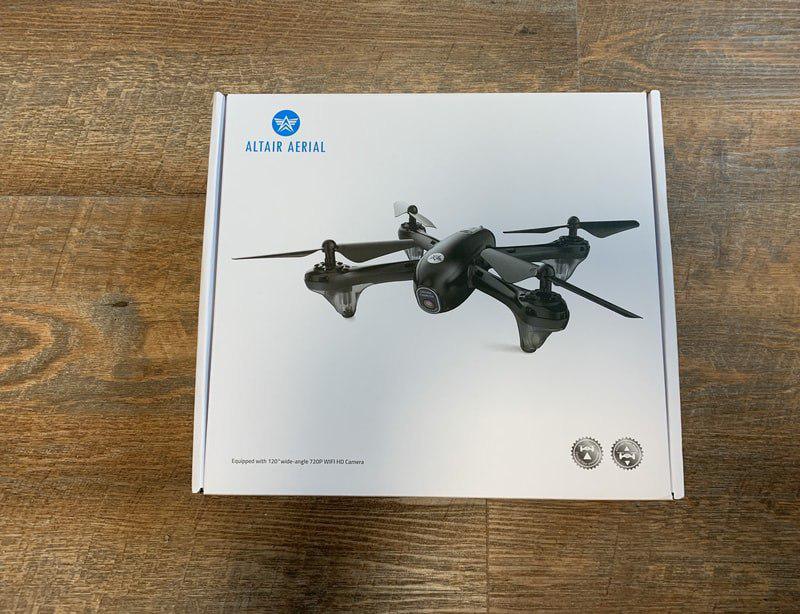 The AA200 Drone Includes:
– 1 x Fully Assembled Drone

– 2 x Li-ion batteries

– 1 x Charging Cable

– 1 x User Manual

– 1 x Spare Parts Pack

– 1 x Phone Mount

– 1 x Transmitter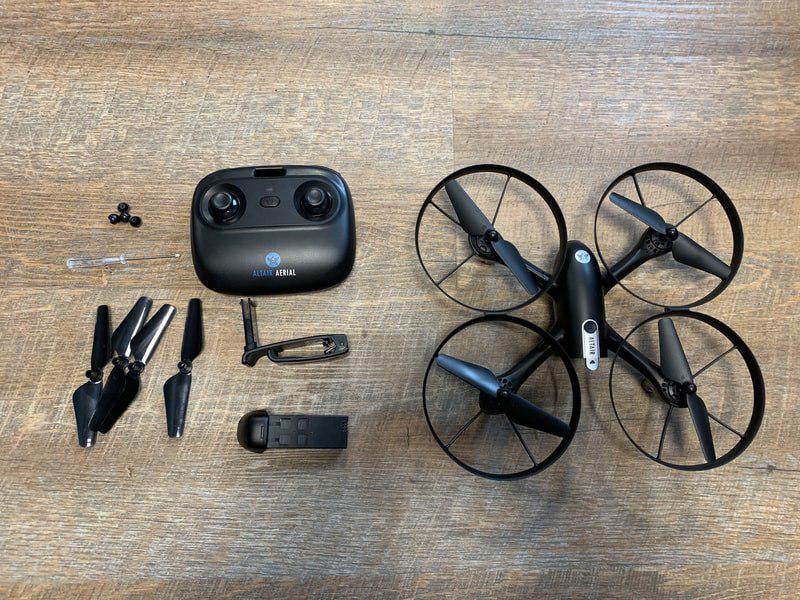 After you have taken everything out of the box, you will want to insert batteries into your controller which takes 4 AA batteries. You have to use a screwdriver to screw off the cap to put the batteries into the controller, so be sure you have one on hand. Luckily, installing the drone's battery is fairly simple. There is an open cavity in the front of the drone and all you have to do is insert the battery from there. One great thing about the AA200 that you don't get with many other drones is that it comes with 2 batteries. This means double the flying time for you which in our opinion, leads to that much more fun!
Before you start flying your AA200, you will want to read the user manual carefully so you can learn more about everything that comes with your drone and how to fly it. You can tell how much effort goes into Altair Aerial's manuals because they are super easy to read and understand. This is awesome because you can get to flying even faster. We've just installed our batteries and have spent some time with the user manual, so let's see what it's like flying the AA200.
Flying the AA200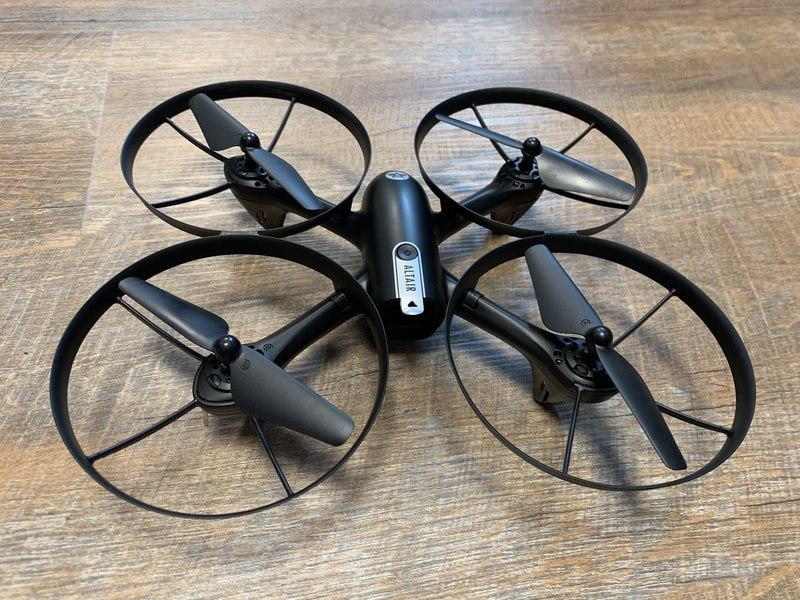 Listed below are the specs
– Autonomous Hovering & Positioning System

– Can be controlled up to 50 meters

– 8-10 minutes of flying time

– 3 flight speed modes

– Can fly heights up to 15 meters

– Weighs 147 grams
Autonomous Hovering & Positining System
We are so excited about this autonomous hovering & positioning system that's unique to Altair. Since this is a seemingly advanced feature on an extremely affordable drone, we wanted to test just how well it worked and if it would be useful to beginner pilots. As we began flying the drone, it stayed in a hovering position fairly well.
Now, Altair made claims that with this system, the drone will stay hovering in its position even if the pilot took their hands off the controller. We tested this and were amazed at how true this was. The drone stayed in control. Beginner pilots are sure to appreciate it this. We know that it can be overwhelming when you're first learning how to fly a drone, but Altair is making this easier with the AA200. The autonomous hovering & positioning system will help any beginner stay in control as they learn how to fly.
Flight Modes
When drones have multiple flight modes, we are always impressed. This means that they can be used by a range of pilots with different skill levels. The AA200 comes with three different flight modes that offer a range of different speeds for all types of pilots. It's very easy to toggle between these flight modes as well. You just have to press down on the right stick of the controller and listen for beeps.
One beep indicates that you're in the slowest mode. We would recommend any beginner or younger pilot to fly in the mode as they perfect their flying skills. If you press the stick again, you will hear two beeps. This means you're in an intermediate mode with a little faster speed. We really enjoyed this mode. A perfect in-between setting that isn't too slow, and isn't too fast. Finally, if you press the stick a third time there will be three beeps and you're in the most advanced mode. The third mode is the fastest mode on the AA200 that seasoned drone pilots will enjoy.
Flight Time and Range
Flight time and range are a huge part of flying a drone. You want to make sure that whichever drone you purchase can give you ample flying time and can fly around large areas. One battery on the AA200 gives you about 8-10 minutes of flying time, but as we mentioned the AA200 come with two batteries which doubles your time. This is great as 20 minutes is about the average amount of flying time you get on more professional grade drones. You can fly the AA200 at a range of about 50 meters. More expensive drones can fly much further, but 50 meters is an impressive range for what you're paying for. This range is good for beginners as well who may not be confident flying as far of distances just yet.
Final thoughts on the AA200 – Should you buy it?
Once again, we were impressed with this new drone from Altair. Their drones are incredibly affordable and the AA200 costs only $129.80. You get some great features for a hobby drone under $200!
Our favorite feature is, of course, the autonomous hovering & positioning system that Altair has rolled out with this new drone. We believe it will be great for any beginner who may be somewhat overwhelmed with learning how to fly. There is an outstanding amount of control that comes with flying this drone which is why it's so perfect for any new pilot. Plus, it's compact size helps with making it less intimidating than other, larger drones on the market.
Overall, this drone is great for pilots of all skill levels but we can definitely see that it's catered to those who are just learning. We could see how a more experienced pilot could get bored with this drone as it's not the most challenging. However, if you do have experience flying drones and are just looking for a new and affordable drone to add to your collection, we think you'll really enjoy the AA200.
You can't beat its price or Altair Aerial's amazing customer service. Altair Aerial is located in the United States and makes themselves readily available to customers. If you have any questions you can email help@altairaerial.com and a real person will respond to help you through any questions you have. This is just another thing that makes the AA200 worth trying.

Kennedy Martinez is a resident writer who joined Dronethusiast at the beginning of 2019. She has years of experience reviewing drones and other tech products. When it comes to flying drones, Kennedy loves the ability to create artistic videos from a unique point of view. Kennedy enjoys researching new drones and other exciting products that are available to consumers which is why she is committed to creating the best buyer's guides for our readers.