Drones are expensive items, and the last thing you want is to accidentally break one before you even get a chance to fly it. With the unwieldy shape and thin propeller arms of most quadcopters, this can be difficult to do on your own, which is why you need a great drone case.
Drone cases come in many different shapes and sizes. A drone backpack can be worn over the shoulders, while others might be carried like a briefcase. They're made of different materials and work for different models of drone. With so many factors to consider it can be hard to tell which drone carry case is best for you, which is why we've written the following product review guide.
Best Drone Carrying Cases
There are lots of drone cases that are designed to work specifically for a single quadcopter, and we've written about some of those in other articles. But in these drone case reviews, we're going to be looking at carrying cases that you should be able to use for many different types of drone so long as they're in the same general weight and size class.
Lowepro DroneGuard CS 400
Read reviews and show for the Droneguard CS 400
The Lowepro DroneGuard series is a very popular set of drone cases for sale and are definitely among the best on the market. The CS 400 is a hard shelled backpack with adjustable dividers inside. It's designed for the DJI Phantom drone series or the 3DR Solo, but should work for any similarly-sized drone (the wingspan should be 1.6 feet or smaller.)
These cases are a lot cheaper than competing brands, too – only $50 USD for the CS 400. And you're still getting a great set of features for the price with dedicated accessory storage, a customizable divider setup, and a lightweight but extremely tough FormShell construction.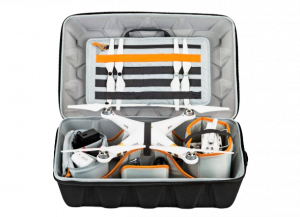 Features:
Costs $50 USD
Includes attachable back straps
10.04" x 15" x 21.93" dimensions
Hard FormShell outer casing
Fits accessories, controller, etc.
Only weighs about 4 pounds (plus the weight of the drone)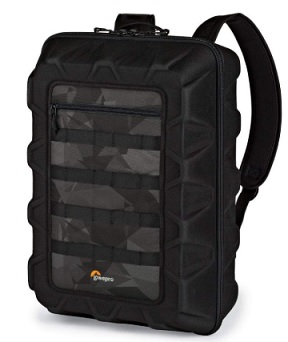 Click To Shop or Read Reviews
Lowepro DroneGuard CS 300
Read reviews and show for the Droneguard CS 300
This is a smaller but slightly more expensive DroneGuard drone case that comes with all of the features of the CS 400 model along with dedicated space for extra parts, action cameras, batteries, cords, chargers, manuals, and more. It's perfect for a smaller beginner drone like the popular Altair Aerial AA108.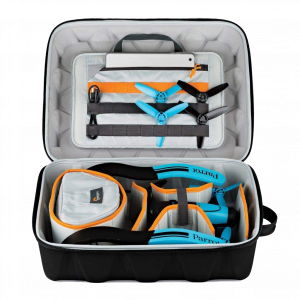 Features:
Costs $63 USD
Includes attachable back straps
6.9" x 14" x 18.2" dimensions
Hard FormShell outer casing
Fits accessories, controller, etc.
Weighs about 3.3 pounds (plus the weight of the drone)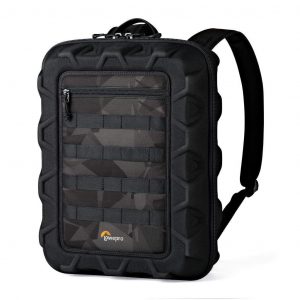 Click To Shop or Read Reviews
Ape Case ACPRO1500W
Read reviews and show for the Ape Case
This water-resistant drone carrying case is a little pricier than the DroneGuards, but still cheaper than most drone cases. The ACPRO1500W works for just about anything from a small beginner drone to the mighty Phantom 4. There's 4 pouches for accessories, controllers, etc., and like all Ape Case drone backpacks this one comes with a 5-year warranty that will protect your investment in the event of any defects in materials or workmanship.
However, this (relatively) cheap case isn't going to give you the best protection around – the outside is merely padded foam. This is probably fine for a backpack and means that the ACPRO is perfect for anyone whose first priority is portability, but it makes it a less-than-ideal choice for anyone whose first concern is durability.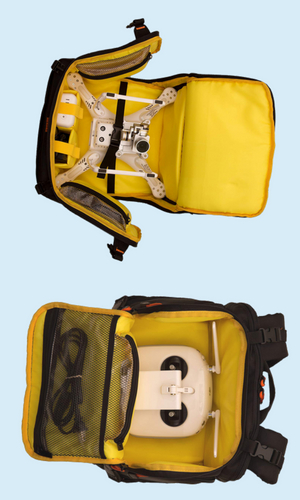 Features:
Costs $99 USD
Backpack with back straps
12" x 9.5" x 18" dimensions
Soft foam casing
Four pockets for accessories
Weighs 2.9 pounds (plus the weight of the drone)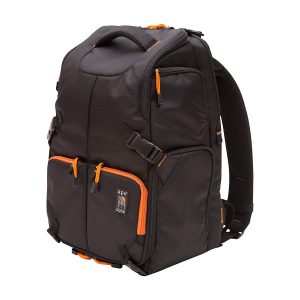 Click To Shop or Read Reviews
Pelican 1650 Black Case With Foam
Read reviews and show for the Pelican 1650
The Pelican 1650 is the toughest drone case around, and also one of the most expensive. This Pelican case is completely sealed and water-tight but uses an Automatic Pressure Equalization Valve to keep air pressure balanced between the inside of the case and the outside world. The exterior is made of a proprietary blend of polymers with stainless steel reinforced joints and padlock protectors. It's so tough that, if you click on the Amazon link below, you can see a video where they run over this carry case with a truck and it still doesn't break!
As you can imagine, portability might be a bit of an issue with a case this big and heavy. It does come with wheels and a handle, but some of our readers might still prefer a backpack. But if you just want the biggest, toughest, and arguably best drone case around, Pelican is the brand to go with.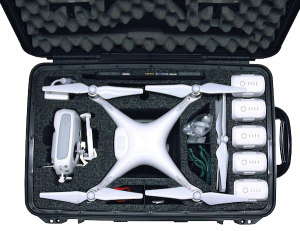 Features:
Costs $265 USD
Heavy case with wheels and a short handle
31.6" x 12.4" x 20.5" dimensions
Nigh-unbreakable polymer casing
Can hold all the accessories you could ever possibly want
Weighs about 30 pounds (plus the weight of the drone)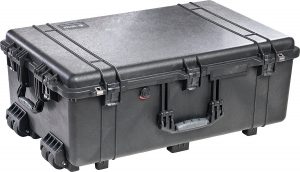 Click To Shop or Read Reviews
Go Professional Cases
Read reviews and show for the Go Professional Case
Go Professional Cases, commonly abbreviated to GPC, is a highly respected drone case manufacturer creating wheeled hard cases for consumers who aren't quite ready to commit to a Pelican. Rather than making a "one-size-fits-all" type of drone carry case like some of the other brands we've talked about, GPC makes individually molded cases for just about every name-brand drone imaginable, so you're sure to find whatever you're looking for if you scroll through their catalogue. We've linked to their most popular model below – their case for the Phantom 4 and its accessories.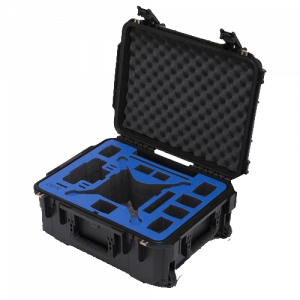 Features:
Costs $239 USD
Heavy case with wheels and a handle
22" x 16" x 10" dimensions
Military grade shell casing
Molded to carry the controller and accessories that come with each drone
Weighs about 17 pounds (plus the weight of the drone)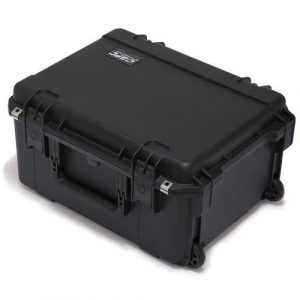 Click To Shop or Read Reviews
Nanuk DJI Waterproof Drone Cases
Read reviews and show for the Nanuk DJI Waterproof
It just wouldn't feel right to make a "best drone case" review guide without including Nanuk. This company is known for making cases specifically for DJI drones (the Phantom series, the Mavic Pro, the Spark, etc.) but they also have a number of great generic cases that allow you to cut the foam yourself to fit whatever drone you're carrying.
Nanuk cases use a proprietary resin on the inside that absorbs shocks, so the case (and its cargo) should be completely fine if you drop it on the ground. Their cases are waterproof, durable, and latch securely so that they'll never open on accident. Though not quite as tough as the Pelican, these are still among the best drone cases around and well worth the price if you want the ultimate in drone safety.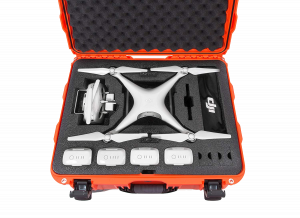 Features:
Costs $261 USD
Heavy case with a handle
22.8" x 18.3" x 11.7" dimensions
Waterproof polymer casing
Can fit a few accessories
Weighs about 18 pounds (plus the weight of the drone)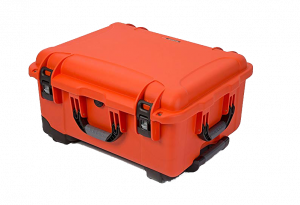 Click To Shop or Read Reviews
Drone Case FAQ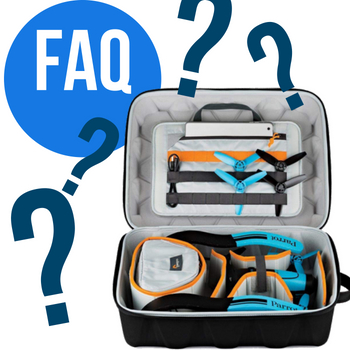 Do I need a drone case?
You don't necessarily need a drone case, but we at Dronethusiast highly recommend it. Especially if you have a large drone that cost you a lot of money, a drone carrying case is the best way to protect your investment by keeping your drone safe and secure.
Where to buy a drone case?
Because drone cases are a niche item, they can usually only be found online. In most cases, we consider Amazon the best place to buy a drone case because they offer cheap or free shipping, some of the lowest prices around, and a wide selection all in one place. However, drone carrying cases can usually also be purchased from the manufacturer's website.
Are there any drones that come with a case?
There are indeed! Certain DJI drones will allow you to add a first-party case at checkout for a slightly reduced price, as well some of the Parrot and JJRC models. Other drones from smaller companies may come with carrying cases as well, especially if they're designed to be portable drones.
However, you will usually have to buy a drone case separately from the drone itself, especially if you're looking at beginner drones or buying from a smaller company like Altair Aerial or Holy Stone.
Can you make your own drone case?
You can indeed! There are many online tutorials that will show you how to build a drone case. Usually, it involves carefully cutting a piece of rubber or foam to a shape that will snugly and securely fit your drone, then placing that mold in a hard shell case or backpack of the same size.
A DIY drone case is a great way to save money, but it will never match up to the durability of the best drone carrying cases you can buy online which are made by professionals. So there are pros and cons to both approaches.
Conclusion
We hope that this article has helped you find the perfect drone case for you. Whether you decide to build one yourself or buy one of the options we recommend, a drone carrying case is the best way to keep your expensive quadcopter safe from being damaged in transit.
Got a favorite drone case that we neglected to mention? Tell us all about it in the comments below!
Justin is a certified Drone Enthusiast with several years experience piloting as many UAV aircraft as he can get his hands on. While shooting footage as a hobby has now become more of a full time job, Justin still enjoys the peaceful feeling of getting a birds eye view while hiking or on vacation with his family. Reach out to Justin by using the Dronethusiast Contact Page or email at dronethusiast@gmail.com.