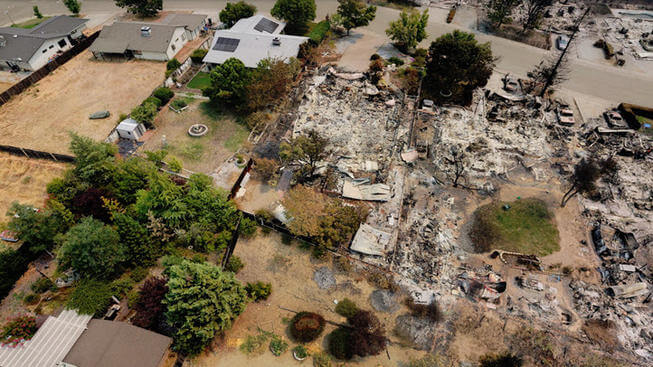 The Carr fire is my second trip to a disaster zone of California as a data analyst supporting public agency UAV teams. Groups from Alameda and Contra Costa County Sheriffs office, along with Menlo Fire Department and San Francisco police arrived in Redding after the fire had burned ~ 1000 homes with half a dozen lives lost and continued to spread more broadly in Shasta county. Residents had yet to return to their evacuated neighborhoods and, understandably, there was a lot of anxiety for information on what remained. Our goal was to provide information quickly.
Teams assembled the first morning at Redding City. Coffee was poured and the Air Boss for Cal Fire briefed the teams about capping altitudes at 100-200 ft, depending on location within the Temporary Flight Restriction (TFR) because of manned aircraft in the area. Redding police then identified the neighborhoods where imagery capture would be most valuable.
My role was to coordinate the data capture and end deliverables to the GIS teams of Redding and Shasta County. Essentially, I was a link between the eyes in the sky and the public agencies responsible for rebuilding the community.
After the briefing came rapid on-boading. There were different drones, different apps and different end products. These all needed streamlined into a workflow. The drones were all off-the-shelf DJI drones, primarily Phantom 4s and Mavic Pros. Apps needed accounts created, logins and passwords. If some weren't as familiar with features of different apps, a quick tutorial was provided and my cell number in case there were glitches. There are no real standards yet across the drone industry for emergency drone analytics, so I'm really just triaging as I go.
And then we dispersed. Splitting into teams to cross the city to preset neighborhoods.
From my view in the back of an law enforcement SUV, I found the devastation of the Carr fire was not a concentrated as the Tubbs fire in Santa Rosa nine months before. In that fire, 3000 homes were incinerated in a single night and it resembled a war zone. This fire was much more patchy with smaller sections of any one neighborhood burned. Yet, it was the sheer scale that left an impression. The fire zone is enormous, covering well over a hundred square miles (and still burning today).
Obviously, it is incredibly sad to see the destruction of homes. There were pets and people lost, including two small children in the areas we were working about the age of my own daughter. These are the things that stick to the soul long after one is back home doing mundane things.
The teams performed amazingly. We captured over one hundred 360 panoramas across the majority of target areas. I found 360s are a simple, but powerful visualization from the Tubb's fire. I decided to use them again and it end up working well to cover a large area quickly. Teams also carried out standard mapping missions with overlapping photos, being capped at such low altitudes greatly restricted this type of mapping to crucial areas.
Then came the tsunami of data as teams poured in hot and tired from the field. SD cards needed sorted, flight logs pulled off tablets, password remember and software updated. This is all before you have even started processing. With the help of a lot of coffee Red Bull though, the data started coming together. 360 degree pin points of high-resolution imagery of began populating a central map. Thing were working.
Processing continued overnight and through the next day as teams continued to collect more imagery. I funneled the end products into formats that the city and county could use and interpret. This typically involves ESRI products and ArcGIS, a standard for most public GIS teams. A was a major lesson I learned from the previous fire was to make sure to think about where the data was going to end up before collection started
After two days, the city was able to push the data out to the public and a clear victory was won for the drone industry. The technology was validated for an emergency, despite the sensitivity of UAVs in fire areas in California. We drove home to the Bay Area exhausted and smelling of smoke. Every SD card was full, every battery was drained.
If this sounds smooth…it wasn't. There were lots of hiccups along the way. Tablets overheated in the high temperatures. Apps didn't work. The internet was slow. Drones were grounded because of software issues in the TFR. There were rouge drones from who knows where. Missions were paused for helicopters. We ran out of coffee.
Still, we got it done and learned a lot of lessons along the way. I'll share this one and leave the others for another time.
The drone is only half the story in these emergencies. The other is the data. There is a clear need for more drone data analysts. These are not necessarily pilots, but individuals who work with the UAV teams to ensure the data is flowing correctly and connect these teams in the right way to the appropriate public agencies, from city to state to federal. No data analysts and the hard work by pilots will eventually just sit on a hard drive somewhere in a drawer. The other lessons I'll leave for another time.
I am honored to have volunteered my time with these teams and to do my own small part in assisting those impacted by the fire. My hope is the imagery is helpful to the residents and to the broader public in understanding the scope of these tragedies.