Amazon Prime Day will run for 36 hours between July 16th and July 17th, 2018. That's just around the corner! If you've never participated in the event before, think of it as "Black Friday" for online shopping – a 36 hour sales bonanza that's the perfect time to take advantage of some great deals on drones. These often expensive toys will become much more affordable on July 16th, which is why we've decided to highlight 5 of the best Prime Day drone deals. These UAVs should definitely be on your wishlist this July!
Best Amazon Prime Day Drone Deals
Be sure to come back and check this page regularly throughout the actual Prime Day event, as we will be updating prices to reflect flash sales and to keep you posted on what is and isn't in stock.
Prime Day Drone Deals For Hobbyists
Altair Aerial makes some of our favorite drones for beginners and hobbyists, and they always go all out on their Prime Day drone deals. There are three drones from this company to keep in mind.
The first is the Altair Aerial AA108, which you can find at this Amazon link. The AA108 is a great beginner drone. It's incredibly durable, handles well in wind, and has three speed settings so that it can get faster as you become a more advanced flier. It also has a number of features that are very useful when you're just starting to fly, like altitude hold and automatic hover.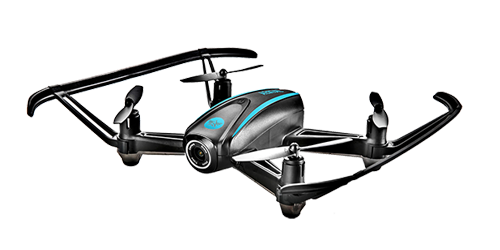 The second is the AA818 Hornet. This is a more advanced version of the AA108 that's specifically designed for amateur aerial photographers who want to take their photos and videos to the next level. A 15-minute flight time per battery (unheard of at this price range) makes the Hornet perfect for longer photoshoots, while its stable shape will keep you hovering perfectly in the air while you line up the best shot. All this, plus the features that made the AA108 one of our favorite drones for Amazon Prime Day.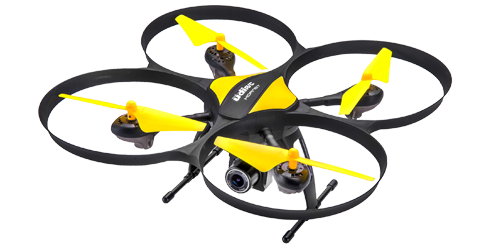 The third Altair Aerial drone that will be going on sale for Prime Day is the Blackhawk. This drone is an advanced-level quadcopter with 15-17 minutes of flight time and a 500 Meter flight range, both available at a ridiculously low price of only $87.84 during Prime Day. This is also a great drone if you already own a GoPro, because it comes with an action mount compatible with the GoPro HERO 3 or 4. All in all, this is an excellent drone for hobbyists at a Prime Day price you can't afford to miss out on.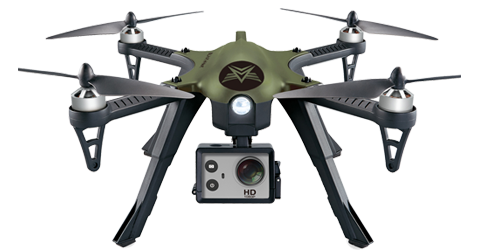 Another company that always participates in Prime Day is Holy Stone. A good starting point for their line of beginner drones is the F181C RC Quadcopter. This drone is a bit large, and it has a bit of a disappointing range (50 meters) and battery life (7 minutes.) But it's not at all bad for its low price – equipped with an HD camera,a 360 degree flip button, and a return-to-home feature. A solid low-end beginner quad for anyone who's worried about breaking the bank.
Note that the deal for this drone takes the form of a coupon instead of just a different sales price. Prime Day coupons on Amazon will look something like the image below:

All you have to do is click the checkbox next to the orange "Coupon" description to take advantage of the sale!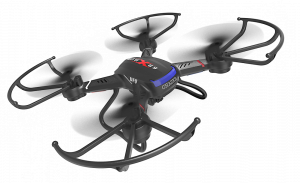 Finally, if you're just looking for the cheapest beginner drone around, the EACHINE E010 Mini Ufo Drone is available for only $25 USD as part of the Prime Day sales event. We've previously listed this UAV as one of the best drones for kids thanks to its durability and stunt features. Plus, this mini quad is small enough to be flown indoors! If you just want the cheapest and most basic RC UAV available, the E010 will give you a very solid product for an extremely reasonable price.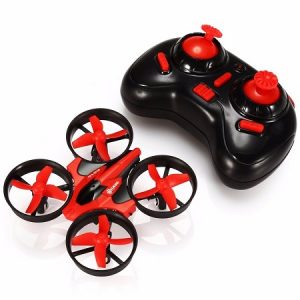 Prime Day Drone Deals For Pros
Of course, we all love DJI, and they've participated in plenty of Prime Day drone deals in the past. This year, perhaps to build hype for the upcoming Mavic 2, DJI's biggest drone sale is the Mavic Pro. The Pro is one of the gold standards for professional-quality camera drones – a portable folding drone that takes cinema-quality video and usually costs $1000 USD. That makes this two hundred dollar discount a Prime Day drone deal you can't afford to miss out on!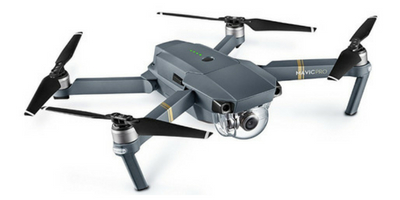 DJI is also selling their legendary Phantom 4 for 36 percent off the usual price. This is probably the best-known (and in our estimation, simply the best) high-end camera drone for sale in 2018. Get it for a steal while you still can!
(The PRO and PRO+ versions of this drone are also on sale for Prime Day, but only for 17 percent off and 7 percent off, respectively.)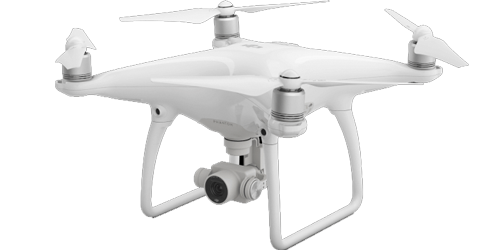 If you're looking for a good alternative to the DJI Phantom, the Yuneec Typhoon H Pro is available for a few hundred dollars more. Despite initially claiming that there would be no Prime Day sale on this drone, Yuneec has dropped $500 off the price of the Typhoon in honor of the event. So get this deal while you still can!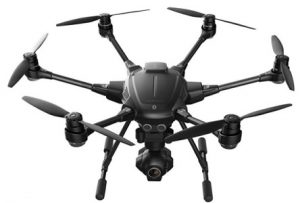 Finally, we can't forget our drone racer friends! There are lots of great racing drones on sale, but the Walkera F210 is one of our very favorites, and it's also one of the best sales with $100 off the usual price. This drone comes with everything you need included right out of the box and is one of the absolute fastest drones for sale, so check it out if you've got a race to win coming up!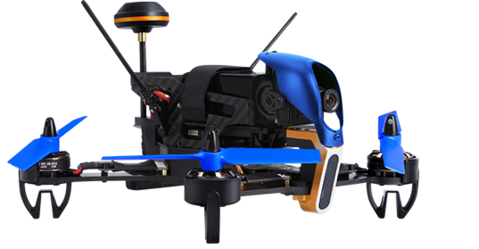 Prime Day Drone Accessory Deals
It's not just drones that go on sale on Amazon Prime Day. Pretty much every department on the site will have at least some kind of sale. Here's a few neat accessories that have gone on sale in previous years which our readers might be interested in.
First: SanDisk memory cards. Most drones that capture video will require you to buy an SD card or TF Flash Card separately. Even if one comes with the drone, you might want to upgrade to something with a bit more room. Here's the Ultra 64GB microSDXC UHS-I Card, which has a ton of space and works with most video drones: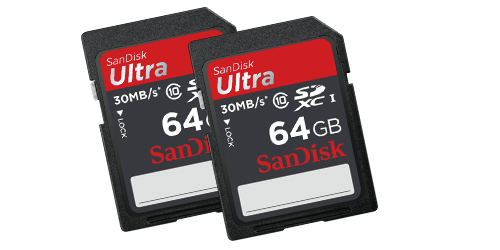 Next: AAA and AA batteries. Most remote drone transmitters, particularly those featured in our beginner section above, require AA and AAA batteries. These will get used up pretty quick when they have to power something as powerful as a quadcopter remote, so now's a good time to stock up: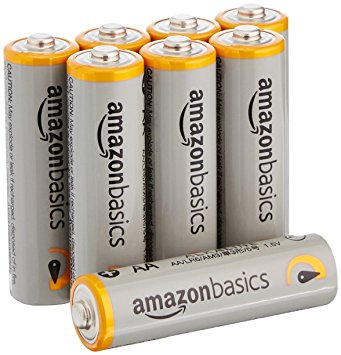 Amazon Prime Day FAQ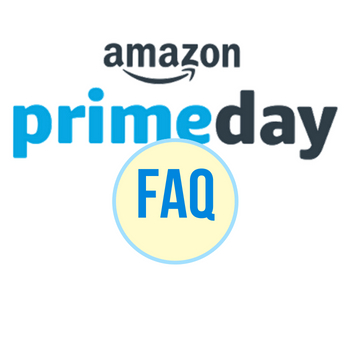 When is Prime Day 2018?
According to a reliable source, Prime Day 2018 will start at 3 PM Eastern Time on July 16th and will continue for 36 hours (ending at 3 PM ET on July 18th.) This will make the 2018 sale the longest Prime Day event in history (so far.)


Do I need to be an Amazon Prime member to enjoy Prime Day drone deals?
As you might be able to guess from the name, yes, you need to be a member of Amazon Prime in order to enjoy the Prime Day sales event. However, some people get around this requirement without spending any money by taking advantage of Amazon's 30 day free trial at the beginning of July. However, you might want to just consider getting a Prime account, because you'll get additional deals and free shipping year-round (and every bit counts when you're getting into an expensive hobby like drone piloting.) It's up to you and your budget!
What countries does Amazon Prime Day take place in?
In 2018, Amazon Prime Day deals will go live in 17 countries: Mexico, China, Spain, India, Japan, Italy, Germany, France, Canada, Belgium, Austria, the United Kingdom, Australia, Singapore, the Netherlands, Luxembourg, and the United States. This is four more countries than last year!


How can I get the best drone deals on Amazon Prime Day?
First, you can use an Amazon price tracker to check the historical price of an item and make sure that you're getting a genuine deal. Some Amazon sellers will increase the price of their product right before it goes on sale to trick you into buying an item at full price and thinking that it's a deal.
Secondly, keep an eye out for "Lightning Deals," which will take place over a short amount of time and for a limited amount of supply. If a Lightning Deal you're interested in is ongoing but Amazon says the product is completely sold out, add it to your watchlist anyway. Someone may fail to make a purchase within the allotted time, giving you a chance to jump in and grab the item as soon as it becomes available.
Finally, make sure you read reviews to ensure that you're getting a high-quality product. If you're looking for the best reviews on drones, we're partial to a little site called "Dronethusiast." You may have heard of it. Here's our complete guide to the best drones for sale as a starting point.
Conclusion
We hope this guide has been helpful as you look for the best Prime Day drone deals on Amazon. If you know of a great deal we've missed, be sure to let our readers know in the comments so that they can jump on it right away! Remember to keep an eye out for Lightning Deals, to make sure you're getting a genuinely good product, and – most importantly – have fun shopping!