Drones have become a very popular hobby nowadays, and people of all ages are getting into flying them. There are many commercially available drones in all sorts of styles, but have you ever considered building your own? In addition to pre-build drones, there are a number of drone kits available for the diy lover in all of us. These kits come with all the parts needed to build and customize a fully functional drone. For those looking to for the ultimate drone experience, a diy drone kit is the best option out there!
BEST DRONE KITS
#1 Drone Kit for Beginners
Maxxrace STEM RC Toys
Camera:

N/A

Range:

50 M

Time:

5 Min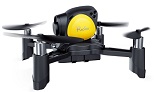 Mini Drone Kit
Mini RC Toy Quadcopter
Camera:

N/A

Range:

50 – 80 M

Time:

8 Min

Carbon Frame Kit
LHI 220 Quadcopter
Camera:

N/A

Range:

N/A

Time:

N/A

Why Should I Build My Own Drone Kit?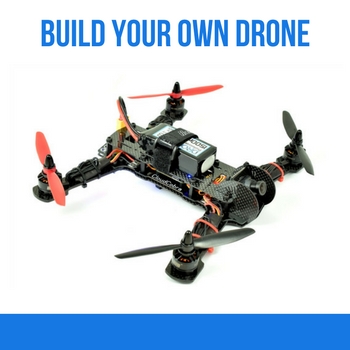 There are many reasons why one might want to build their own drone. These range from performance and customization options, up to simply it being a great learning and overall fun experience.
For one, building a drone comes with a wealth of experience and understanding of how they actually work. It gives the builder an opportunity to really learn what's going on inside the quadcopter, and provides a unique experience that can't be had when buying a prebuilt model.
It also lends itself well to performance upgrades and customizations. Drone kits are made to be experimented with, and this gives enthusiasts the options to swap out and change many of the components. Anyone who wants to tinker or swap out pieces of the drone is going to be very happy with a drone kit.
Lastly, there is a sense of pride and achievement that can only be had by putting your own drone together. It's well worth the effort, and really something to be proud of when flying around a drone you built yourself!
The Best Drone Kits
There are a lot of different drone kits out there to choose from, and not all are made equal. Depending on what the user is looking for, a different quadcopter kit might be a better choice. We've broken down some of the most popular drone kits, and picked out some of our favorites.
Maxxrace STEM Rc Toys DIY Mini Racing Drone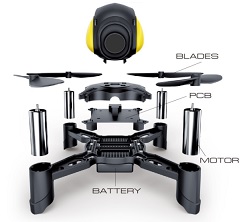 To start we have the Maxxrace Mini racing drone. This is a great beginner drone both in terms of diy kits as well as flying in general.
In terms of diy kits, this one is super simple and great for first timers. It sacrifices a bit of customizability, but makes up for it in ease of putting it together. For those looking for a great diy kit, or one for a younger teen, this is a great kit that won't be any trouble to assemble.
It also comes with features like assisted take-off and altitude hold that make it super easy to fly. Many people actually use this as a practice drone before moving onto larger drones. The price for this one is also quite low, meaning it's not a huge loss if it gets banged up a bit while learning.
Overall it's a solid drone kit at a good price. While lacking some of the customization options and power of other kits, it's cheap price and overall ease of use more than make up for it.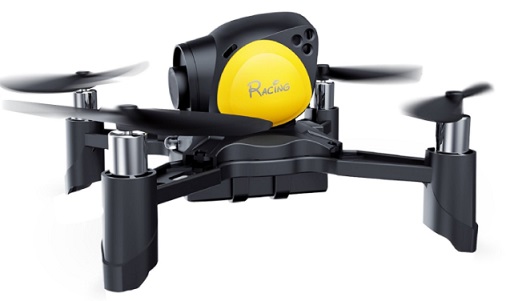 Click To Shop or Read Reviews
Mini RC Toy Quadcopter Drone Set With Camera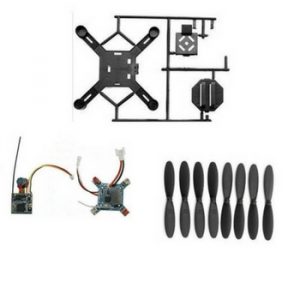 Our next drone kit ups the price a bit, but also comes with some more features. Immediately jumping out on this drone is the camera that can be viewed with the compatible smartphone app. For those wanting camera support on their drone, this is a solid kit that provides just that.
It too is also quite easy to put together and comes with additional pictures on the smartphone app. They say it takes about 30 minutes from start to finish, and that seems like a pretty fair estimate, even for a beginner.
It also comes with a lot of the ease of use features like altitude hold and easy take off. This makes it a great learning drone for first time flyers, and the cheap price makes it great for practicing with.
Overall, this is a nice little drone kit that is easy to put together and comes with a camera. Not a bad deal for the price.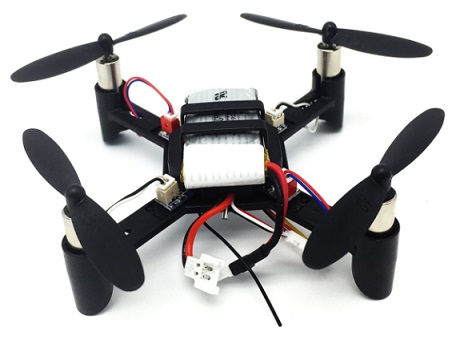 Click To Shop or Read Reviews
LHI 220 Quadcopter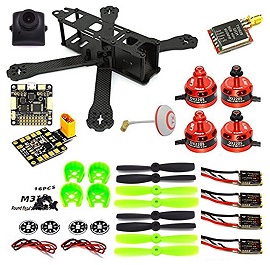 Next up we have the LHI 220 racing quadcopter. This kit is a step up from the the two previous ones, both in terms of cost as well as assembly complexity.
All the pieces of this kit are high quality, and fit together really nicely. This creates a nice racing style drone that is both fast, and handles really well.
To top it all off it comes with a camera. For those looking for a step up from the basics this drone kit is a great choice. It lacks some of the features that make some of the other drones a bit easier to use, but for the intermediate drone user this kit is a good choice.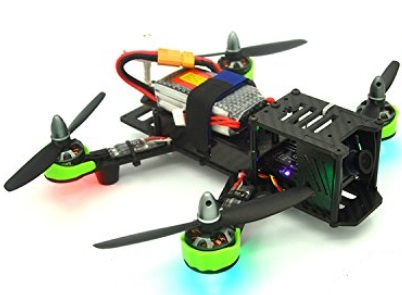 Click To Shop or Read Reviews
Targethobby Carbon Fiver QAV210 FPV 4 Axis Quadcopter Kit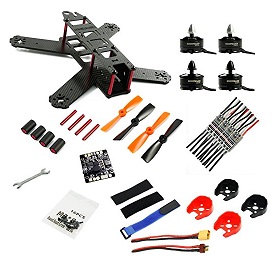 This is a nice little quadcopter that comes in a decent price for the power it provides. The materials themselves are very good quality, and many users have commented on their sturdiness even during collisions.
In terms of assembly, this is quite an easy drone to put together. While a bit more than some of the very beginner models, it still should be doable for even first timers as the instructions are quite clear.
It also comes with support for popular cameras such as GoPros, and makes a good drone kit for those looking for that kind of support. Overall a nice drone that is a step up from some of the basic beginner drones.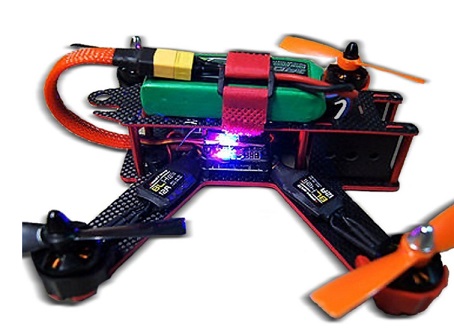 Click To Shop or Read Reviews
Sky Viper e1700 Stunt Drone Builder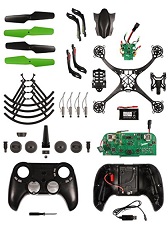 Last up we have the Sky Viper e1700 Stunt Drone Builder Kit. This kit is a decently priced diy drone kit for beginners.
First off, assembly is super easy. There is both well written instructions, as well as animated instructions on the companion app. Even absolute beginners will find this a breeze to put together.
It's also quite easy to fly. The drone comes packed with different sensitivity levels that can be tuned to different levels of experience. In every case, the control is very tight, and the drone responds well to user input.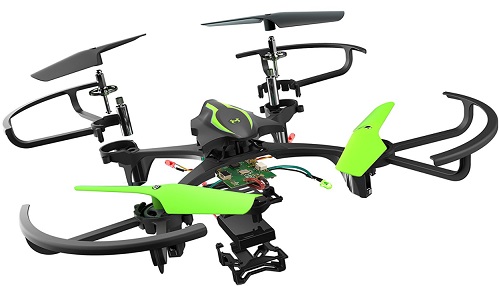 Click To Shop or Read Reviews
Build Your Own Drone Kit
Building your own drone is a fun and rewarding experience. The ability to create and fly your own creation is a feeling like no other! Every drone enthusiast should try it at least once, and even newcomers to the hobby will enjoy the experience immensely.
FAQ
What's The Best Way To Start With Drone Kits?
The best way to get started is with many of the cheap, easy to assemble kits. These are generally made for beginners, come with fewer pieces, and are easier to put together. Their cheap price is also great in case something breaks, it won't be a huge loss.
Are DIY Drone Kits Expensive?
Some are, and some aren't. High quality drone kits can cost several hundred dollars. On the reverse, small, beginner kits can be bought for under $30.
Do DIY Drones Kits Come With Cameras?
This depends on the kit, some do come with cameras of varying levels of quality. Others that don't might however come with a place to easily mount one.
Is It Difficult To Build a Drone?
With the right kit no! There are many kits aimed at first time builders that are easy to build and come with excellent instructions. Other sets might be a bit more difficult, but with the right experience can be done fairly easily.
Are There Racing Drone and Other Specialized Kits?
Yes, there are special kits for racing style drones as well as other specialized functions. These might come with special or extra parts that help them excel at their function.
Additional References