One of the most important features to look at when you're buying a new drone is its controllable range – that is, how far apart the transmitter and the receiver can be without the connection breaking up. Most commercial drones can only manage a remote distance of 30 meters or so, but what about longer-range drones? After all, one of the biggest benefits of commercial quadcopters is that they've given even amateur photographers and videographers the chance to take some amazing aerial shots, and you can't do that with a paltry 30 meters.
Here's a short list of some of the best long-range drones on the market today. Let us know in the comments if we've missed a personal favorite!
Table of Contents for the Best Long-Range Drones
BEST LONG RANGE DRONES
#1 Budget Long-Range Drone
Altair Blackhawk Drone
Camera:

Compatible with GoPro

Range:

300 M

Time:

15 Min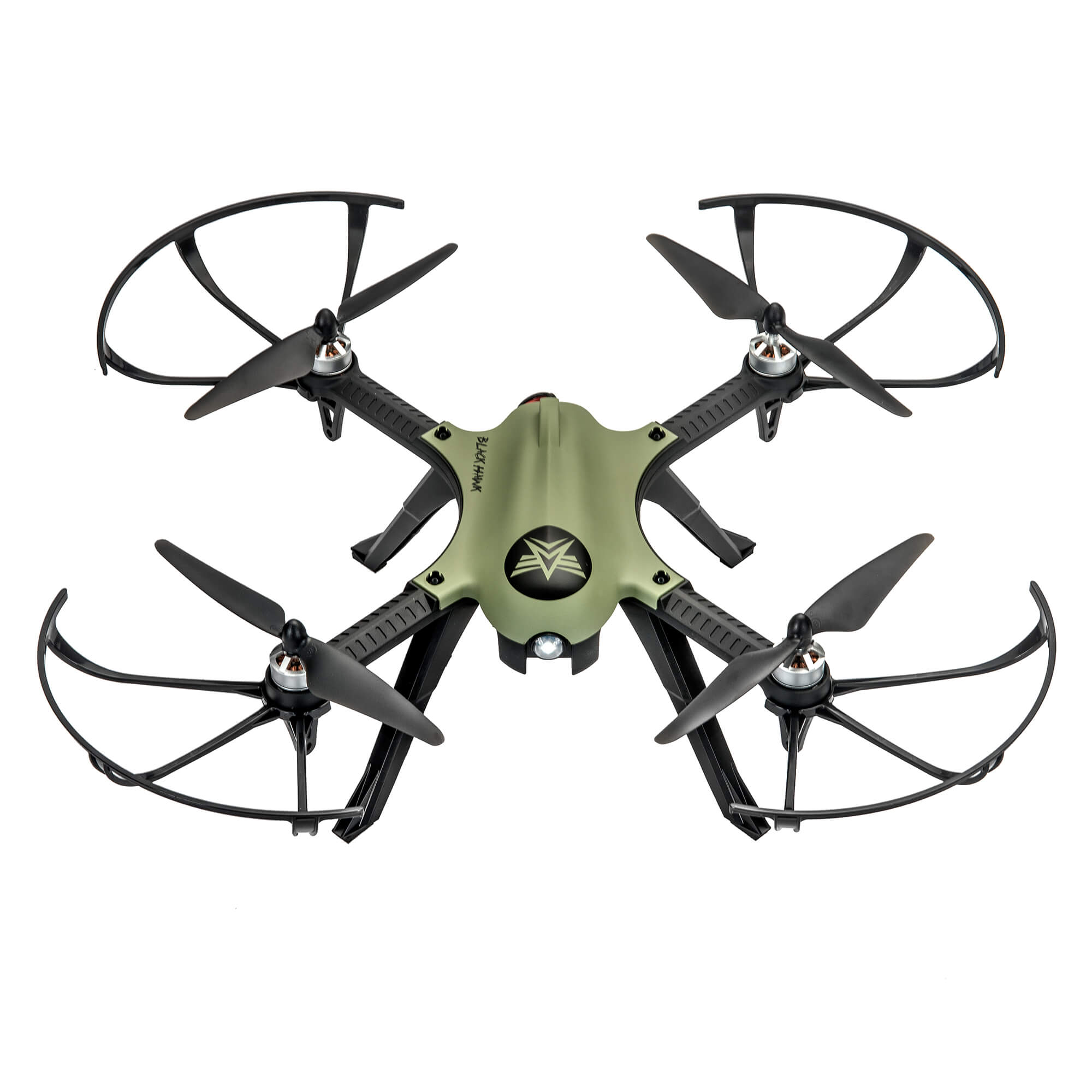 Great Camera
MJX Bugs 2
Camera:

1080p Camera

Range:

800 – 1000 M

Time:

18 Min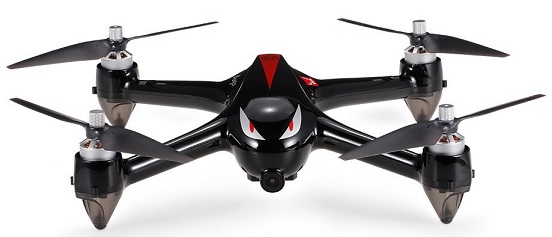 Super Long Range!
DJI Mavic Pro
Camera:

4K

Range:

7 KM

Time:

27 Min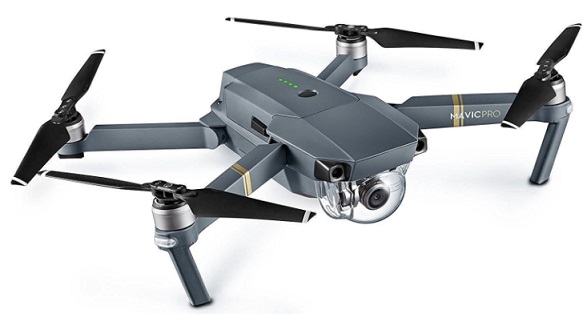 Best Long-Range Drones
Altair Aerial Blackhawk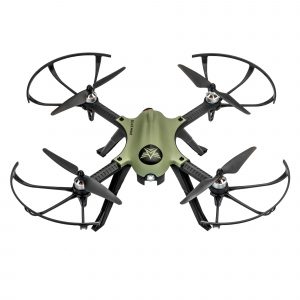 NEW LOWERED PRICE! For only $109.99 you're getting an amazing drone at an amazing price! Get super fast and free shipping when you order the Blackhawk from AltairAerial.com, or you can also see Best Price at Amazon. The Blackhawk is a more advanced level quad with 15-17 Minutes of Flight time and 300-500 Meter Range!
The Altair Aerial Blackhawk is easily the best long-range drone for the money. Sure, it may not boast the impressive numbers of some of the other entries, but with 200-500 meters of range and racing drone speed, this drone won't leave many pilots unsatisfied. And how many drones can boast a range that's 60 times that of the average for only $110? Now that's a bargain.
Listed below are the specs:
– Brushless motors for a perfect balance of power and quiet operation
– Action camera slot that fits the GoPro 3 and 4 camera and other action cameras
– A 2.4 gHz two-way transmitter with 200-500 meter range
– Total flight time of approximately 15 minutes
– 6-axis gyro
Click for Best Price
MJX Bugs 2
Read reviews and show for MJX Bugs 2
Back To Top
If you need more range than the Bugs 3 provides, well hey, why not the MJX Bugs 2? For only $100 more you get twice the range and a 1080p camera built right into the aircraft while keeping the stylish design and impressive durability that made the MJX Bugs 3 our top choice.
Listed below are the specs:
– An

MT1806 1800KV brushless motor

– 1080p camera
– A 2.4 gHz two-way transmitter with 800-1000 meter range
– Total flight time of approximately 18 minutes
– GPS height hold
–

7.4V 1800mAh Li-po battery

– Independent ESC

with built-in automatic lock protection, high temperature lock protection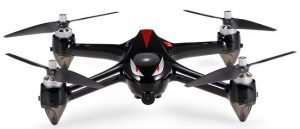 MJX Bugs 2
DJI Mavic Pro
Read Reviews About DJI Mavic Pro
Back To Top
The DJI Mavic Pro is, as the name implies, a professional-grade drone with a $935 price tag that's gonna be a major problem for most recreational copter fans. But with 27 minutes of flight and a 7000 meter range, you'd be hard-pressed to find a single more impressive piece of hardware in the quadcopter market.
Listed below are the specs:
-Uses a new transmission technology, OcuSync, that boasts a range of 4.3mi or 7km
-Able to stream a video feed in full 1080p HD resolution
-Features FlightAutonomy, Gesture Mode, Return to Home, Auto Take Off, Auto Land, Collision Avoidance, and more
-Total flight time of up to 27 minutes
-Able to reach speeds of up to 22 mph or 36 kph
-Has true 4K videos at 30 FPS with a 12 MP camera that uses Adobe DNG RAW
-Includes a 16 GB microSD card
-Uses GPS and a dual redundant IMUs
-The Fly More Combo comes with a 32 GB microSDHC UHS-I Card with adapter, lens hood, landing gear, and more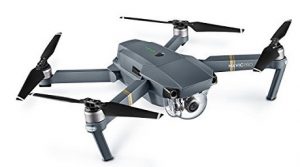 DJI Mavic Pro
Click To Shop or Read Reviews
DJI Phantom 4
Read Reviews About DJI Phantom 4
Back To Top
Someday we'll be able to go a whole list without mentioning the DJI Phantom 4. Today is not that day. It's our most expensive option so far and has a "mere" 5000 meter range, so if all you want is to go as far as possible you're better off sticking with the Mavic Pro. But with its legendary host of impressive features, it's not hard to see why the Phantom 4 is still a Dronethusiast favorite.
Listed below are the specs:
-Has a camera with 4K HD videos at 30 FPS and slow motion at 1080p for 120 FPS that supports 12 MP stills at 4000 x 3000 with a f/2.8 lens
-Uses GPS navigation technology with a dual compass module and dual Inertial Measurement Unit (IMUs) for better reliability
-Uses both GPS and GLONASS dual positioning modules
-Features Auto Takeoff, Auto Return to Home, Hover function, Sport Mode, Visual Tracking, and more
-Able to fly at speeds of up to 45 mph using Vision Positioning and satellite support when you have it in Sport Mode
-Total flight time of up to 28 minutes
-Has a transmission range of up to 3.1 miles or 5 km with 720p HD resolution through the integrated HD video downlink
-Weighs 8.8 pounds with a total size of 15"x8.7"x12.8"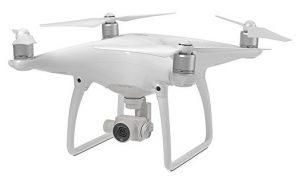 DJI Phantom 4
Yuneec Typhoon H Pro
Read Reviews About Yuneec Typhoon H
Back To Top
At $1,500, the Yuneec Typhoon H Pro with RealSense is nothing to sneeze at. It's also a fairly delicate instrument and absolutely not a vehicle for beginners. But not only does it come equipped with an impressive 1800 meter range (a full mile, if you can believe it) – it also takes videos and images in gorgeous 4K quality, making this a must-have for serious aerial photographers.
Listed below are the specs:
-Comes with the ST16 all-in-one controller that eliminates any need to use a tablet or a smartphone with an integrated 7" Android touchscreen that allows for 720p HD video downlinks in real time
-Uses ultrasonic collision prevention, 6 rotor safety, and 5 rotor fail-safe
-Features Orbit Me, Point of Interest, Journey Mode, Curve Cable Cam, Auto Takeoff, Auto Land, Auto Return to Home, and more
-Uses a GPS stabilized flight control system
-Has 4K UHD video resolution with 12 MP still photos and a CGO3+ gimbal camera
-The Intel RealSense Technology detects and navigates around obstacles while building a 3D model of the area around it for better navigation
-Total flight time of between 20 to 23 minutes
-Weighs 12 pounds with a total size of 17"x21.2"x12.5"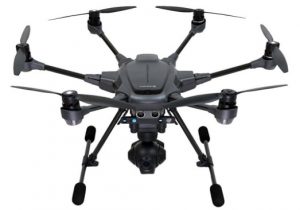 Yuneec Typhoon H
Hubsan H501S X4
Read Reviews About Hubsan H501S X4
Back To Top
And at the complete opposite end of the spectrum, we have the H501S X4 by Hubsan. For $250 you get only 300 meters of range (less than either of the bugs), but the X4 still deserves a place on this list for the incredible amount of GPS capabilities and functions it offers for the price. Sure, it's at the low end of long-distance quadcopters, but if you're looking for a solid camera and a near-professional range of features at an amateur price range, you could do a lot worse.
Listed below are the specs:
-Has a 1080p HD camera
-Features Follow Me, Altitude Hold, Automatic Return to Home, Headless Mode, Low Power Protection, Expert Mode and more
-Uses the latest 6-axis gyro flight stabilizing system
-Has a 4.3" LCD screen on the controller with a resolution of 480 x 272 that is capable of real time transmission in FPV with a range of up to 300 meters
-Takes a 2700mAh LiPo battery
-Total flight time of up to 20 minutes
-Weighs 4 pounds with a total size of 8.7"x8.7"x2.8"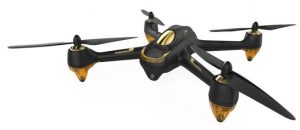 Hubsan H501S X4
Click To Shop or Read Reviews
Long-Range Drone FAQ
If you don't see your question listed below in our FAQ section, get in touch with us and we'll help you out.
What are the advantages of long-range drones?
There are many advantages to drones with longer-than-usual ranges. The most obvious of these is safety – the longer the range of your drone, the less likely you are to lose control of the aircraft, even if it's very fast. For this reason, beginner fliers are especially in need of a very good range.
But where long-range drones like the ones on this list really shine is in the field of aerial photography. They make it possible to get incredible shots from incredibly high up, or to get wide-angle views when the photographer's far out of sight. It's also much safer to use a drone to take photos while you're standing on the ground than traditional aerial photography, which was either accomplished with a prohibitively-expensive helicopter or by taking dangerous positions on tall buildings.
In fact, long-range drones have even been used to capture footage for major feature films, including Captain America: Civil War and Man of Steel
What determines the range of a drone?
The range of a drone is mostly determined by the quality of its radio link – the invisible connection between the transmitter and the aircraft that works the same as a radio or any other RC vehicle. Most drones use a 2.4 gHz radio frequency, which can give you up to 1500 meters in the best possible conditions. Lower frequencies, like 1.2 gHz, give you better range, but are illegal in many states because those are the same frequencies used by commercial aircraft.
However, most drones do not provide those best possible conditions. There's a few good reasons for this. Firstly, the technology in the highest-quality radio/receivers – like FrSky – is often bulky and can make it hard to easily transport your drone (not to mention the increased power needed to get it airborne.) And secondly – in part because of the bulkier parts – this technology is a lot more expensive.
Can other factors affect a drone's effective range?
Absolutely! Most notably: putting an obstacle (like a tree or a building) between the transmitter and the drone interferes with the signal and gives you a much lower range than what it says on the box. If you are unable to fly in an open area like a field or a park, you're going to want to stay well below the maximum range to make sure your aircraft doesn't fly out of your control.
And for drones that fly in first-person view, cameras have an even less effective range because most 5.8 gHz FPV systems start losing picture after 500 meters. This should make sense even to our less-technically-minded readers: it's a lot harder to stream video than it is to just transmit simple commands.
The Best Long-Range Drones for Sale
As always, there is no single "best" drone – it depends on what you're looking for as an individual consumer! Some of these drones simply offer the best value for their money, while others are professional-grade gear perfect for aerial photographers and videographers. Whatever your needs, we hope we've helped you find the best long-range drone for you!