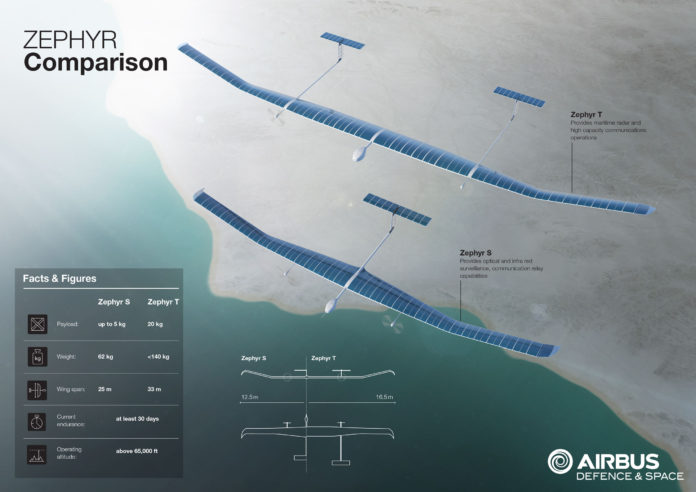 Quite an opportunity for those of you based in Europe with the appropriate qualifications. Here comes the future.
The Airbus Zephyr High-Altitude Pseudo-Satellite (HAPS) is a novel solar-electric powered stratospheric remotely piloted aircraft system (RPAS) capable of persistent operations over many weeks. Zephyr has held the world record for the longest unrefuelled aeroplane flight since 2010 and, after continuous development, is now poised to demonstrate the full potential of HAPS.
Airbus will conduct a prolonged Zephyr flight campaign in 2018 and we require people with relevant technical or aviation experience to operate the system as part of a multi-person crew. You will undergo specialised training in our UK facility at Farnborough before deploying on a rotational basis to an overseas operating location. Training will begin in April 2018 and the expected total length of this campaign is 6-7 months. Follow-on opportunities are expected.
This is your opportunity to be part of an exciting activity at the leading edge of global RPAS operations.
Description of the Job
You will be responsible for the safe and effective delivery of Zephyr flight operations in one of two roles: Pilot or Mission Planner. Training is common to both roles but eventual appointment and progression will depend upon qualifications, experience and demonstrated skills. The roles encompass the following tasks:
Flight planning, meteorology, system preparation and airspace management

System management and aircraft navigation from a ground control station

Working with external stakeholders including payload operators, air traffic authorities and customers

General flight operations and other support tasks
Essential Skills and Experience
You should have excellent analytical, interpersonal, verbal and written communications skills to be able to work with stakeholders at all levels, both military and civilian.

You should have experience of successful task delivery within a small-team environment with a demonstrable ability to make and implement complex risk-based decisions under pressure.

For the Pilot role, you should hold, or have held, at least a private pilot's licence or equivalent military aircrew qualification. This is not necessary for the Mission Planner role only.
Desirable Skills and Experience
A good understanding of the technical, operational and environmental factors affecting HAPS.

Engineering or scientific qualification, preferably to degree level.

Current pilot's licence or qualification, preferably with an instrument rating and multi-crew experience. Instructor and other specialist ratings would be advantageous.

Operating experience with large RPAS, preferably including beyond line-of-sight flying.

Current or previous SC clearance.
To apply contact Lee Brown [email protected]